The Paradise of the Sandoval Lake
It is difficult to choose a single place as the most beautiful in the Peruvian jungle, but if we had to make a ranking of the most beautiful in the Amazon, Lake Sandoval would be in the top ten. Being able to take a boat ride through its waters, totally surrounded by nature, will give you the peace you always expect on a vacation. So that you can plan your next trip to this region of Peru, today we tell you all the secrets of Lake Sandoval.
Where is located the Sandoval Lake?
Sandoval Lake is located in the Tambopata National Reserve, a place of almost 3,000 square kilometers where flora and fauna are the true protagonists. This area is located in the department of Madre de Dios, south of the city of Puerto Maldonado.
In the northern area of Tambopata, very close to this city and the Madre de Dios River, you can visit Lake Sandoval, a body of water three kilometers long and one wide that is one of the great jewels of the National Reserve.
Sandoval Lake is a marvel for the eyes and the senses: its waters, surrounded by aguaje palm trees (a typical fruit from the jungle that you cannot miss trying), are the habitat of an unimaginable amount of fish, more than 6,500 species! they live here!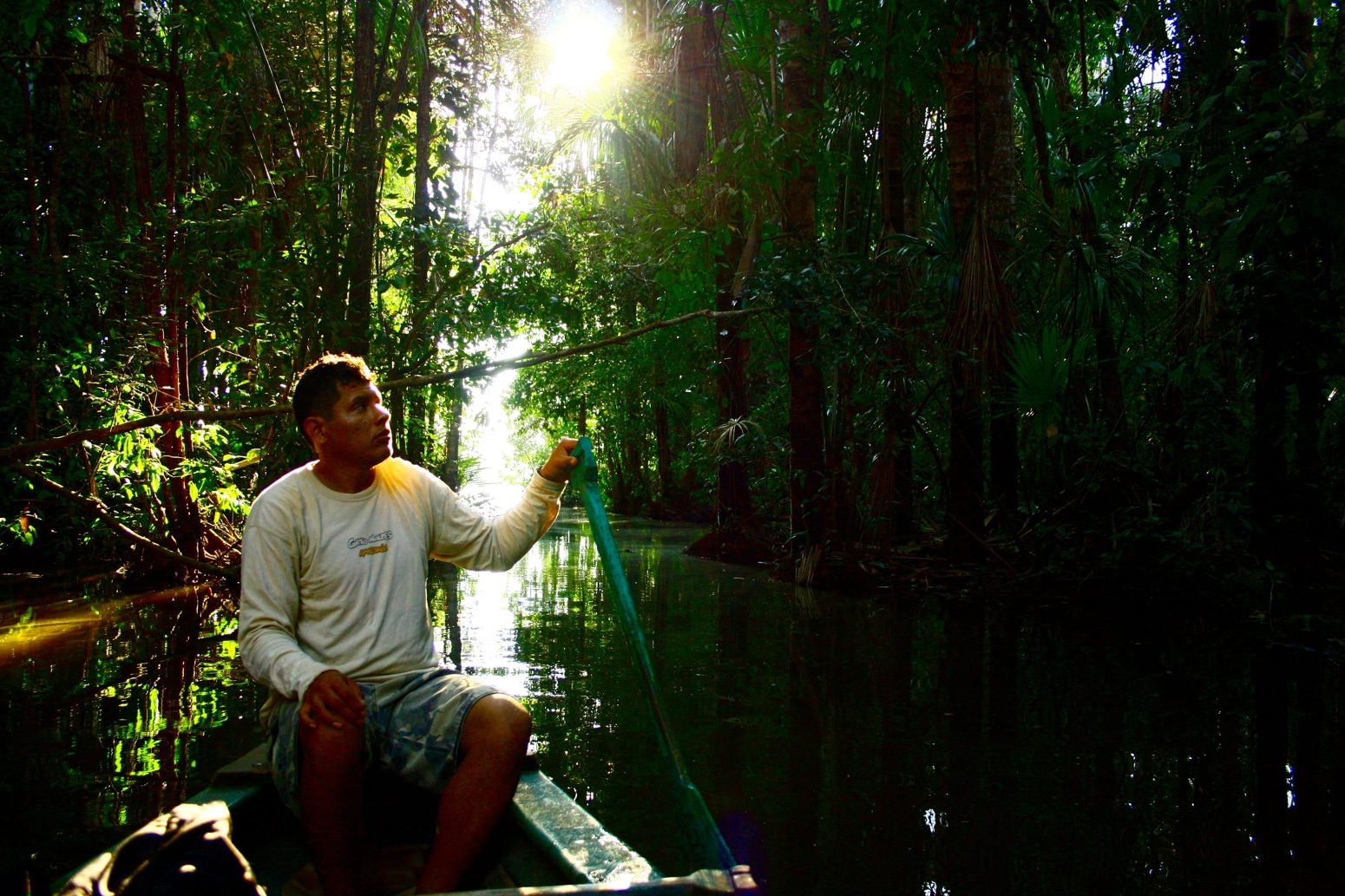 Tambopata National Reserve and Sandoval Lake in Puerto Maldonado
Entering the Tambopata National Reserve, officially created on September 4, 2000, allows you to discover a great variety of flora (reflected in the different shades of green, for example) and fauna, which summarize part of Peru's biodiversity.
Reserve Wealth
The Tambopata National Reserve is located in the Madre de Dios region. Upon reaching the city of Puerto Maldonado, you will have to take a boat. The trip along the Madre de Dios River lasts approximately 30 minutes. Once in the reserve, you will start a one-hour walk that will take you to the shores of Lake Sandoval.
This protected area houses a biological megadiversity that only in birds adds up to 648 species. Among them we find the heron puma, the tiger heron and the musketeer. The reserve is a transit point for more than 40 migratory birds due to the diverse aquatic habitats it possesses.
In addition, it has 1,000 types of butterflies and 108 species of mammals.
Clear and calm waters, with an average temperature of 26 °C, will be our allies in the rowing boat ride in the impressive lake that is three kilometers long, one kilometer wide and three meters deep.
Spending time in the company of black turtles and alligators, as well as enjoying the sounds of nature, make Lake Sandoval a memorable experience.
The place is a gem. Its waters, surrounded by aguaje palm trees, are home to more than 6,500 different species of fish, it also has a considerable number of orchids, platanillos, ungurahua, lupuna, mahogany and Mauritian palm trees, up to 30 meters high.
What to do in Lake Sandoval?
Sandoval Lake is the perfect place to spend a vacation of total relaxation and rest from the daily routine. But not everything that awaits you in this destination is lying in a hammock to enjoy the scenery and not think about anything, since in the lake and its surroundings you can do various activities. Here we tell you some of the best things to do in Lake Sandoval.
A boat ride on Lake Sandoval: one of the wonders of this lake is that you can enter it with a boat. Paddling across Lake Sandoval while enjoying the scenery that surrounds you, the sounds of nature and the company of black caimans and turtles will make you feel completely free.
Trekking in the surroundings of Lake Sandoval: when you visit the jungle it is always very exciting to walk its paths on your own feet. You will be able to see various animals moving freely from tree to tree and you will get to know the most secret corners of the enigmatic Amazon.
Of course, whenever you enter the jungle you will have to do it with the help of a guide, since they know all the paths and will be able to take you and bring you back without any problem.
Night walk: can you imagine walking through the dense jungle with only the light of the moon? This is one of the most common activities around Lake Sandoval. You will enter the night of the Amazon, with millions of sounds around you that you do not know where they come from and with the mystery of not knowing the animals that are accompanying you on this adventure. You dare? Of course, it is an excursion only suitable for the most intrepid.
Isla de los Monos: An essential stop on the way to Lake Sandoval is Isla de los Monos, an entertaining place where different species of this animal coexist in total harmony with nature. The friendly monkeys will walk by your side and, without any shame, they will climb on your back to accompany you on this path. Go with the camera in hand because you will want to immortalize that moment!
Enjoy a good paiche: the paiche is one of the fish that inhabits Sandoval Lake and a very important ingredient in the cuisine of this region. Since traveling is also knowing the gastronomy of each place, do not hesitate, when you visit Lake Sandoval choose something made with paiche at lunchtime and delight yourself with the flavor of this dish.
Panoramic views: one of the most beautiful experiences near Sandoval Lake is being able to observe the entire jungle with a panoramic view. To do this, a few years ago they built a bridge 30 meters high where you can appreciate the immensity of the lake and its surroundings.
Meet strange animals: in addition to the fish that inhabit Lake Sandoval and the monkeys that will climb on your back, this place has countless animals as neighbors. Some of them are totally unknown to tourists, for example, the hoatzins or the giant otter, so always keep your eyes wide open, because you don't know when you will find a new species around you.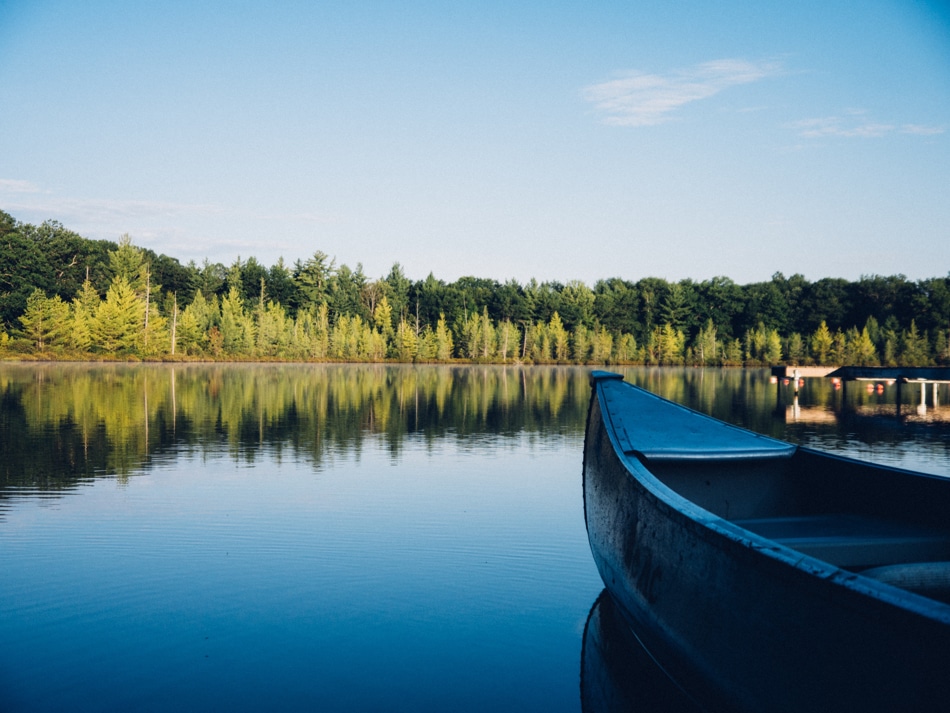 Different Connection
Lake Sandoval, considered the Branch of Heaven, offers visitors different afternoons, since from its shores you will be able to observe the arrival of flocks of macaws, which come to spend the night in the surroundings.
Walking through the corners of this impressive mirror of water will allow you to connect with the natural world and its benefits. And while the lake is more attractive from an ecological perspective, it's also an interesting place for other activities, such as boating. That is why it is advisable to visit it between April and November, when it is not the rainy season.
How to get to Lake Sandoval?
As we always recommend, to visit the jungle it is best to do it with a specialized guide. Being such an unknown place, the paths can be confusing and it is difficult to know where to continue.
Be that as it may, the route to Lake Sandoval is an adventure that mixes landscapes that will leave you breathless and a wide variety of means of transportation that you will have to take to reach this destination.
First, you will have to go by plane to the city of Puerto Maldonado (if you are in Cusco, you can also do it by bus). Once here, you will have to go to the port to take a boat and travel the Madre de Dios River in an easterly direction for 30 minutes. Finally, you will arrive at the starting point of a walk of about an hour that will take you to the shores of the lake.
More data:
This lake occupies an area 3 km long by 1 km wide and its depth ranges from half a meter to three meters. The shape of the lake is that of a crescent and its waters are generally at 26°C.
To access Lake Sandoval, it is necessary to pay for an entrance ticket to the Tambopata Reserve. The entrance to the park is always in the company of authorized guides.
-The prices are as follows: foreign tourists pay 30 soles, local tourists 15 soles. Minors pay 8 soles and adults 30 soles. The last Sunday of each month, admission is completely free.
If it is about enjoying regional food, this destination will surprise you with exquisite dishes based on paiche, one of the fish that inhabits the lake and an ingredient in the most representative stews of the Peruvian Amazon. Its soft and great-tasting meat is a true delight, and if it is accompanied by patacones and chonta salad, the enjoyment will be greater.
We do have a lot of tour in Cusco and Machu Picchu, see here!