Inca Trail Hike Availability 2024 – 2025
The Inca Trail is one of the most popular treks in the world, and as such, availability is limited. If you are planning to hike the Inca Trail to Machu Picchu, it is important to book your trip well in advance. The availability of the Inca Trail is affected by a number of factors, including the time of year, the number of people in your group, and the number of spaces regulated by the Peruvian state.
Only 500 trekking permits are issued per day for Inca Trail treks in 2024; Inca Trail permits are also required for your travel team such as porters, cooks, and guides; therefore, booking the Inca Trail in advance is essential. Because there are multiple needs to take care of, there is no set amount of time in advance that you must book and guarantee an Inca Trail to Machu Picchu entrance ticket.
The best time to hike the Inca Trail is the dry season, which runs from May to September. It is also the busiest time of the year, so it is important to book your trip as far in advance as possible.
Inca Trail Availability 2023 On line
The Classic Inca Trail to Machu Picchu 2023 permits will be released this October 10th, 2024, and some dates will be sold out very fast, Book your Inca Trail tour in advance to choose your preferred dates.
Permits for the 2024 Inca Trail will be released starting October 10th.
Monday 10 Oct: January 2024.
Tuesday 11 Oct: March 2024
Wednesday 12 Oct: April 2024
Thursday 13 Oct: May 1 – 15
Friday 14 Oct: May 16 – 31
Monday 17 Oct: Jun 1 – 30
Tuesday 18 Oct: July
Wednesday 19 Oct: August onwards
Check the Inca Trail Permit & Availability 2024
The first step to check the Inca Trail Permits 2024 is to decide when you want to start the hike to Machu Picchu, because once you booked you can´t change the date or cancel your permits.
SAM Corporations has created "Chat with us" a user-friendly access to the information about Inca Trail permits & availability for 2024 in real time. A representative will give you the information by WhatsApp or you can talk and ask about the Inca Trail 2024 and you can book online the Inca Trail tours.
Below you will find the dates that are still available for the Classic 4 Day Inca Trail.
January 2024: Available all month.
February 2024: Closed for maintenance (Every year).
March 2024: Available all month.
April 2024: Available all month – Some dates are sold oul already.
May 2024: Available all month – Some dates are sold oul already.
June 2024: Available all month – Some dates are sold oul already.
July 2024: Available all month.
August 2024: Available all month.
September – December 2024: Available all months.
The Inca Trail Availability was updated on June, 2023. Book below your Inca Trail permits with the best and direct Local tour operator based in Cusco; SAM Corp
Inca Trail Map
If you're planning on hiking the Inca Trail, it's important to have a good map. There are plenty of resources available online and in stores, but we've found that the best way to get a feel for the trail is to use an Inca Trail hikers map.
This map was created by an SAM Corpotations hiker who has completed the trail and provides detailed information on the different sections of the trail. It also includes recommendations on where to stop along the way and what to see on the Inca Trail.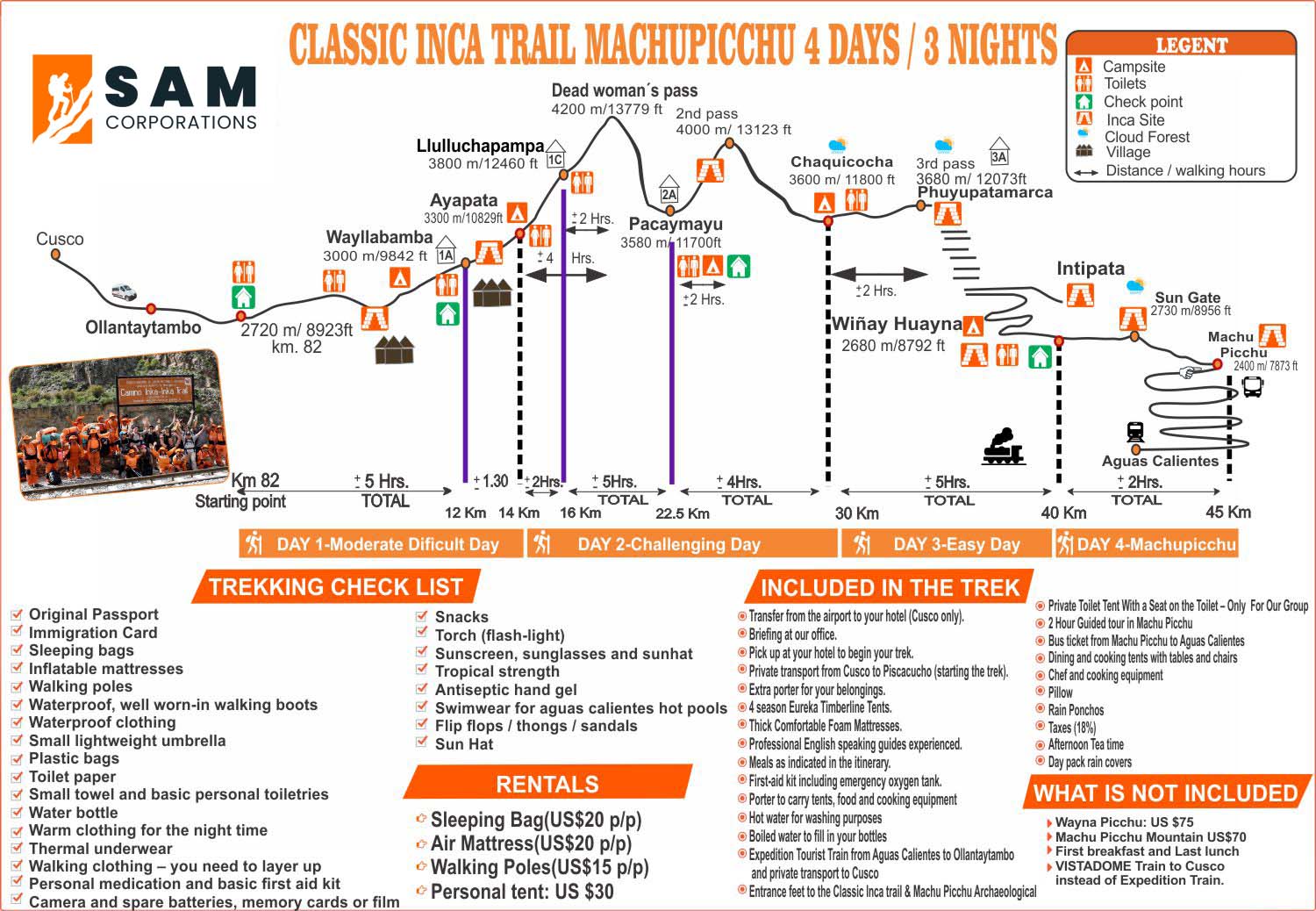 Passport Requirements
Please know that if you are booking with a passport that is set to expire within 06 months of your planned entry date to Peru, you will be required to renew your passport before coming to Peru. Peru authorities will not grant you entry to the country otherwise.
If you are booking your trek with us, and this is your case, please know you will be able to book with us to secure your Inca Trail permits and tickets to Machu Picchu. However, you will be required to renew your passport and update your passport details with us prior to your trip to Peru. Failure to do so may result in the forfeiture of your reserved permits, and tickets to Machu Picchu.
Characteristics of the university card to access the student discount for the Inca Trail
The university card is the necessary document to reserve an entrance to Machu Picchu. This document must be valid at the moment of entering the Wonder of the World.
The university card must meet the following requirements:
Be of PVC material.
Own the name of the university.
Possess the student's readable names and surnames.
Have the student's photo
Have the expiration date still valid at the time of entering Machu Picchu.
The Most Popular Inca Trail Treks to Machu Picchu
Classic Inca Trail to Machu Picchu 4 days / 3 nights
The Classic Inca Trail is a popular hiking trail that leads to the ancient city of Machu Picchu in Peru. The trail is 4 days long and takes hikes through some of the most stunning scenery in the country. The trail is relatively challenging, but the rewards are more than worth it. Hikers will see amazing views of mountains, valleys, rivers, and ruins of ancient Inca settlements.
See the detailed itinerary here!
Short Inca Trail to Machu Picchu 2 days / 1 night with hotel
The Short Inca Trail is the perfect way to experience Machu Picchu for those on a time budget. It is a shorter version of the Classic Inca Trail, which only takes 2 days and 1 night. The trail starts at km 104 from Cusco to Aguas Calientes. From there, it ascends to Wiñaywayna, Sun Gate, and Finally Machu Picchu.
See the detailed itinerary here!
Salkantay Trek and Inca Trail 6 days / 5 nights
The Salkantay Trek and Inca Trail are 2 of the most popular hiking trails to Machu Picchu. The Salkantay trek is the most scenic, longest, and most challenging route. While the Inca Trail is a more historical, mystical, and epic hike. The Salkantay and Inca Trail will combine these 2 iconic hikes to Machu Picchu, allowing you to arrive at Machu Picchu through the Sun Gate, where you can get that famous first glimpse of Machu Picchu.
What is the best Alternative trek to the Inca Trail?
If the Inca Trail fully booked, don't worry as you can still hike one of so called Alternative Treks!
When the Inca Trail is fully booked, it means no travel agency can book it. This is because the booking system of the Inca Trail is managed by the Ministry of Culture of Peru! You can do the follow Inca Trail alternatives treks during your Machu Picchu Vacation:
Salkantay Trek
3 Day Inca Trail Trek
Ancascocha Trek
Vilcabamba Trek
Ausangate Trek
If you have an adventurous soul and enjoy trekking in Peru, you cannot miss this wonderful route.
Even if you're just beginning to dream of your trip to Peru, contact us and talk with our local experts!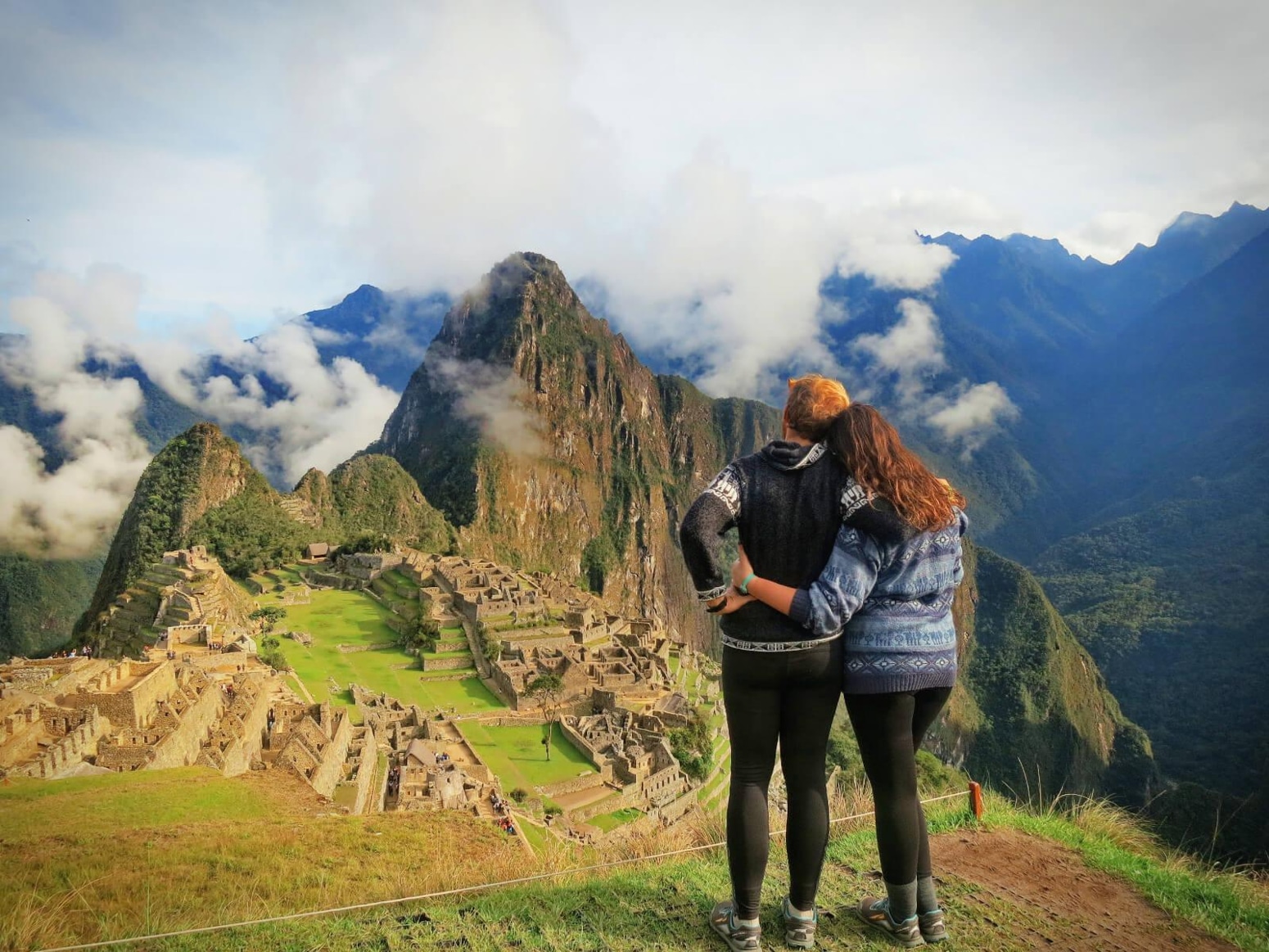 Inca Trail to Machu Picchu details
Distance: 43 km/27 miles.
Duration: The classic one takes 4 Days & 3 Nights, The relaxed & enhanced way in 5 days / 4 nights (you see Machu Picchu twice).
Departures: Any date as long as we have a minimum of 2 people, we have small group of up to 8 people, average 3-4ppl… Big groups can be organized by request.
When to book: 5+ months ahead/ or even a year ahead.
Altitude: 2,400m/7,872ft to 4,215m/13,825ft.
Adventure Rating: Moderate to Challenging – Depends on your fitness.
Solitude Rating: Famous, tourist trail, kind of crowded (some campsites may still be uncrowded).
Available/open months to hike: From March to January.
Best time to go: From May through August
Terrain: Dirt, rock, stone steps, multiple high passes.
Acclimatization: 2 – 3 days acclimatization in Cusco
Customizable: Yes! Just let us know, custom, add-ons all available.
Price: From USD 697 per person