Lake Titicaca Tour Travel Guide
Lake Titicaca, the cradle of Incan civilization and the origin of the Inca Empire, is the largest lake on the South American continent, straddling the border between Peru and Bolivia. Lake Titicaca is the highest navigable lake in the world at an astounding 12,500 feet of elevation, making it higher than Mount Fuji in Japan. Lake Titicaca is too cold for swimming, but this alpine body of water does offer gorgeous views of the Andes, boating trips to islands made of reeds, and an intimate look into the Indigenous cultures that have called the Titicaca home for hundreds of years. Also the Lake Titicaca is home to the famous floating island called UROS.
World's highest navigable lake
Lake Titicaca is the world's highest navigable lake and the center of a region where thousands of subsistence farmers eke out a living fishing in its icy waters, growing potatoes in the rocky land at its edge, or herding llama and alpaca at altitudes that leave Europeans and North Americans gasping for air. It is also where traces of the rich pre-Hispanic past still stubbornly cling, resisting in past centuries the Spanish conquistadors' aggressive campaign to erase Inca and pre-Inca cultures and, in recent times, the lure of modernization.
Birthplace of the Incas
According to legend, this lake gave birth to the Inca civilization. The turquoise-blue lake was the most sacred body of water in the Inca empire, and is now the natural separation between Peru and Bolivia. It has a surface area exceeding 8,000 sq km (3,100 sq miles), not counting its more than 30 islands. At 3,856 meters (12,725ft) above sea level, it has two climates: chilly and rainy or chilly and dry. It gets cold in the evenings, dropping below freezing from June through August. During the day the sun is intense and sunburn is common.
Lake Titicaca's floating islands
Centuries ago, the Uros people abandoned their homes on the mainland to establish a way of life on floating islands amid the waters of Lake Titicaca. Today resident families welcome travelers to their floating homes (little lodges). The Uros Islands are more touristy than other Lake Titicaca islands, but this doesn't mean they aren't worth visiting.
Locals greet you as you take your first steps on the soft and springy island surface. Torta reeds are the main building-block of their homes. During your stay, locals explain the regular upkeep their reed homes require and show you how they weave the reeds together to build their thatched homes, furniture, and canoe-style boats.
Climate & Weather
Lake Titicaca resides in the high plain Altiplano region with a semi-arid climate. Daytime temperatures average between 60ºF to 65ºF (15ºC to 18ºC) throughout the year. At such a high elevation, night temperatures drop in the region, so pack a jacket to keep warm. However, snowfall is very unlikely.
Dry Season Vs. Rainy Season
The dry season is from April to November. Weather conditions are usually sunny and pleasant. On a clear day the sun's rays are strong – especially reflecting off the lake surface – and sun protection is a must. In June and July, nighttime temperatures hover around freezing.
The rainy season is from December to March. On days with rainfall, clouds usually build through the morning to bring afternoon showers and thunderstorms. January and February see the heaviest rainfall.
Best Time to Visit the Lake Titicaca Travel Guide
The peak travel season is during June, July, and August. These months are at the heart of the region's dry season and what many consider the best time to visit Lake Titicaca.
The shoulder season falls between the rainy season and peak dry season; April to May and September to November. The weather during these months is pleasant and there are fewer tourists. April and May fall after the tail end of the rainy season and are particularly beautiful months to visit Puno because the surrounding landscapes are green and flowers are in full bloom.
Places to visit in and around Lake Titicaca
Puno
Puno is the capital of Peru's Altiplano – the harsh highland region – and stepping off point for exploring Lake Titicaca. It is also Peru's folklore center, boasting more than 300 different ethnic dances – most famous of which is the Diablada (Devil Dance), performed during the feast of the Virgen de la Candelaria in February. Little of Puno's colonial heritage is visible, but there remain a handful of buildings worth seeing. The Catedral San Carlos Borromeo is a magnificent stone structure, dating back to 1757, with a weather-beaten Baroque-style exterior and a surprisingly spartan interior – except for its center altar of carved marble, which is plated in silver.
Yavari steamship
A fascinating relic of a different era is the Yavari steamship. Built by the British in 1862, it plied Lake Titicaca until 1975, and is now a floating museum.
Islas de los Uros (Uros Islands)
The best known of the islands dotting Lake Titicaca are the Islas de los Uros, artificial floating islands of reed named after the natives who inhabited them, but often known as the Islas Flotantes. (floating islands) The Uro islanders are believed to have originally stemmed from the Oruro area in Bolivia and to have developed their unique way of life in resistance against the conquering Incas. Many traditional customs and crafts stay unchanged, and the islanders are still quite different from other Peruvians. They fish, hunt birds, and live off lake plants, and the most important element in their lives is the lake reeds they use to make their houses and boats, and even as the base of their islands.
Isla Taquile
A solid island that lures tourists is Isla Taquile, the home of skilled weavers and a spot where travelers can buy colorful garments whose patterns and designs bear hidden messages about the wearer's social standing or marital status. The residents of this island run their own tourism operations in the hope of maintaining a degree of control over tourism and ensuring that the visits of outsiders do not destroy their delicate culture. There are no hotels on Taquile, but the Quechua-speaking islanders open their homes to tourists interested in an overnight stay.
Isla Amantaní
Handicrafts play an important role in life on Isla Amantaní, a lovely, peaceful island. Amantaní was once part of the Inca empire, as attested to by local ruins, and was reputedly once a prison island. Amantaní has opened its doors to outsiders who are willing to live for a few days as the Aymara-speaking islanders do – and that means sleeping on beds made of long hard reeds and eating potatoes for every meal. There is no running water, and nightime temperatures drop to freezing even in the summer. But those happy to rough it catch a glimpse of an Andean agricultural community that has maintained the same traditions for centuries.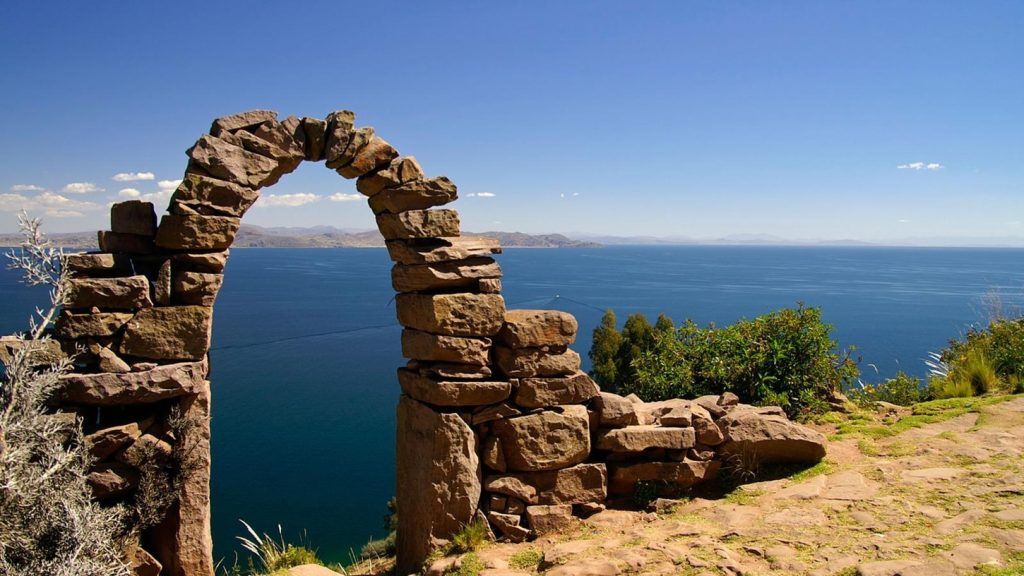 Temple of Fertility
The Temple of Fertility, or Templo de Inca Uyu as it's known in Spanish, is the main attraction of Chucuito, a small town on the banks of Lake Titicaca just south of Puno city. Within the walled-off complex are rows of eyebrow-raising stone statues of male genitalia. Rumor has it that women trying to get pregnant once frequented the temple to perform fertility-boosting rituals. While the stone wall at the temple is distinctly Inca, the originality of the statues and their placement at the site is up for debate.
The town of Chucuito is 11 mi (18 km) south of Puno, Peru.
Sillustani
Sillustani is the main archaeological attraction in the Lake Titicaca region. Several circular and square burial towers, called chullpas, remain from this pre-Inca cemetery. The chullpas were the final resting place for nobles whose mummies were put in the tombs alongside gold artifacts and other earthly riches. The site is perched on a little peninsula in Lake Umayo and overlook beautiful altiplano scenery.
About 20 mi (30 km) north of Puno, Peru
Travel Tips for the Lake Titicaca Travel Guide
Packing List
Here's a checklist of items to bring in your daypack for an island hopping tour:
Bottle of water
Protection from the sun (sunglasses, hat, and sunscreen)
Warm clothing (for windy or nighttime temperatures)
Camera and charged batteries
Comfortable footwear
Money to tip your tour guide (optional)
How to Get to Lake Titicaca
By Plane: There is no airport within the city limits of Puno. Instead, travelers can fly to the Inca Manco Cápac International Airport in Juliaca, about 30 mi (50 km) away, and then take a bus, taxi, or private transport to the city. Direct flights are offered from Lima and Cusco to the Juliaca Airport.
Lima to Puno (Juliaca Airport): 1 hour 45 minutes non-stop
Cusco to Puno (Juliaca Airport): 1 hour non-stop
By Bus: Bussing is a popular and convenient option for getting from Cusco to Puno and takes 6 to 7 hours. For optimal comfort, ask your travel advisor to book a fully reclining seat (full or semi-cama). Bus service is also offered between Arequipa and Puno and takes 5 to 6 hours.
By Train: PeruRail (ONLY company) operates the Andean Explorer train which runs between Cusco and Puno. The luxurious 10-hour ride chugs past beautiful towering Andean peaks and small rural villages. The Puno train station is located on Av. La Torre 224.
How to Get Around Puno
Puno City: Many attractions, restaurants, museums, and shops located around the main plaza are navigable on foot. Puno-hotels located on the outskirts of town is about a 15-minute taxi drive from the downtown area.
Puno to the Islands: Boat tours depart from the docks in Puno and private hotel piers.
Health Concerns
High Altitude
Lake Titicaca is located at a breathtaking 12,500 ft (3,800 m) above sea level. Many travelers ask: Will I get altitude sickness? The truth is that each person responds differently to high elevations and it has little to do with fitness. Eat light meals on the first day and avoid strenuous physical activities for the first 24 to 48 hours as you acclimatize. Minor altitude sickness symptoms include headache, shortness of breath, and loss of appetite. Serious reactions to altitude are rare and hard to predict.
Sunburn
The sun's rays are exceptionally strong out on Lake Titicaca; resulting from the high altitude and light reflection off the lake's surface. Protect yourself by wearing sunblock, a wide brim hat, and glasses. Long-sleeve shirts and pants are advised.
Motion Sickness
Water conditions can be choppy out on Lake Titicaca. If you get motion sickness, it's a good idea to bring a remedy for a boat ride to the islands