Interesting Facts about Palcoyo Rainbow Mountain in Cusco
Peru has a large variety of incredible locations to visit, some of which truly stand out with their magnificent look and breathtaking vistas. Palcoyo Rainbow mt is not different, and it delivers us something that you just can't see anywhere else. Here you can find some of the most incredible rainbow mountains in the world. Their incredible look, combined with an amazing hike to reach this location just makes traveling to Palcoyo a lot more exciting and enjoyable than you might expect.
Visiting the Palcoyo rainbow mountains is one of those "off the beaten path" experiences that you really want to appreciate and enjoy. It pushes the limits of your travels by bringing in a wonderful, albeit a bit challenging hike. (due to the altitude) It's exciting to visit these mountains, and the location itself is downright incredible. You will have an enjoyable time visiting Palcoyo Rainbow Mountain in Peru, and the great part is that you also have adjacent travel routes in the region aside from it. So you can easily establish your own tour and enjoy a very fulfilling experience in Peru at your own pace.
Is it worth it to hike Palcoyo?
Visiting the Palcoyo mountain is worth it because it's one of the most impressive sights you can find in the entire world. The region itself shines thanks to the beautiful rainbow mountains, and it's what has revitalized tourism in this part of the country. Aside from that, you also have other aspects to consider here. You can view the amazing alpacas, meadows, all kinds of birds, there are also stray huts and so on.
It's unforgettable to visit the Andes in all of their glory, there's so much stuff to see and just an amazing legacy that you just can't find anywhere else. That alone really goes to show the uniqueness you get form visiting Palcoyo and these beautiful rainbow mountains.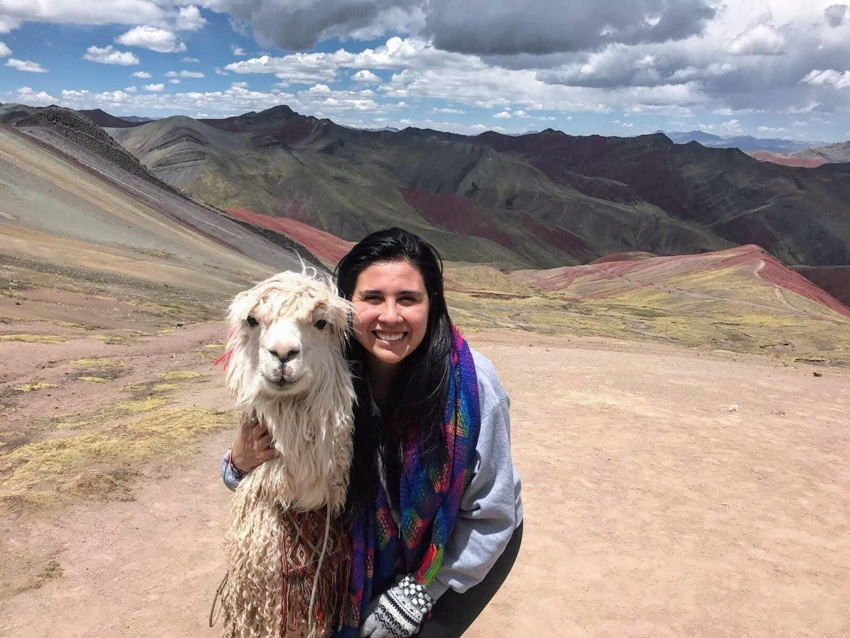 What is special about Palcoyo tour?
What makes the Palcoyo Rainbow Mountain tour unique is that this is a new route which helps you reach these beautiful rainbow mountains. For a very long time, there was a single rainbow mountain that was popular, but now with the Palcoyo tour you can reach this remote, yet astounding location. On top of that, this offers a beautiful view of the Ausangate mountain, while also giving you the time to explore and enjoy these rainbow mountains in all of their beauty. This is a very exciting and different type of tour that has a lot to offer, it's immersive and enjoyable, but also filled with plenty of amazing benefits.
Another thing to note here is that the Palcoyo tour is less crowded when compared to other tours in this region. Which is great, because it adds to the appeal of the tour, since you're not constantly dealing with massive crowds.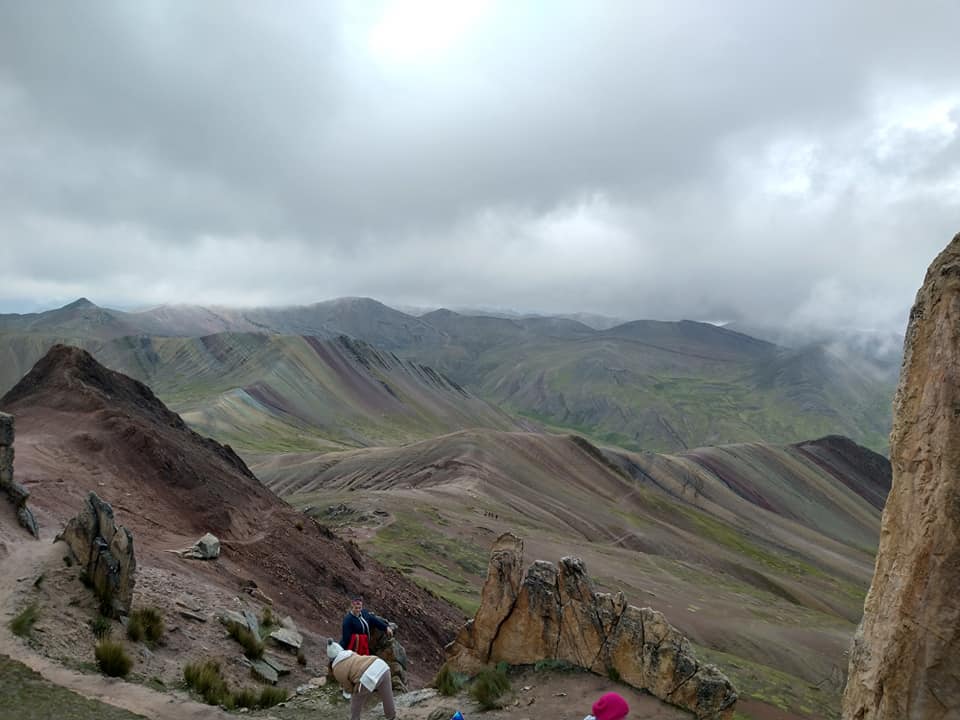 Where are the Palcoyo Mountains?
The Palcoyo mountain is found around 76 miles or 125 km SE from Cusco. Generally, you can reach Palcoyo via a tour, but you can also rent a car or just take the taxi or bus.
Why is Palcoyo mountain colorful?
All rainbow mountains, including Palcoyo have a unique color to them and this comes from exposure to the elements and also erosion of various mineral layers found within the mountains. When the rainwater is running off the hills rich with minerals, these colors appear and it's exactly what leads to the mountain having such an amazing look.
These are things that happen over centuries, so the rainbow mountains in Palcoyo have existed for quite some time. Many consider their current look to be the epitome of rainbow mountains and something you will rarely see anywhere else.
Best Time of the Year to visit Palcoyo Mountain
There are two main seasons in the Peruvian Andes:
The dry season runs from late April through to early October.
The wet season starts mid to late October and ends in April.
But, When is the best time of the year to do Rainbow Mountain?
The trek can technically be completed all year round, the peak trekking season to The Rainbow Mt occurs during the dry season and is busiest between May and September.
Is Palcoyo Mountain a hard hike?
The original rainbow mountain, Vinicunca is known for the fact that it has a very challenging hike. It's steeper, so that makes it a lot harder to access when compared to other locations. With that being said, the Palcoyo hike is not that hard to begin with. Granted, it does have its steep places, but for the most part it's more of a leisure walk when compared to Vinicunca.
This is one of the reasons why some people choose the Palcoyo hike, because it's convenient and also very enjoyable at the same time. If you want to travel with kids or older people, going on a challenging hike isn't really ideal. Which makes Palcoyo family-friendly when compared to many of the other options available. It's definitely a great idea to give it a shot for yourself and you will find it a lot more versatile in nature.
Are there restrooms along the trail to Palcoyo?
10 minutes before the arrival there are a few restrooms, and you can also find a few at the parking lot. These are found before the hike. Take a roll of toilet paper with you just to be on the safe side. With that being said, you will not have any restrooms at the top. That means you need to ensure you're handling anything related to restrooms before you hike.
Can you go to Palcoyo Mountain Peru without a guide?
Yes, you can avoid taking on a tour if you want, but that's not exactly the ideal way to tackle something like this. However, you will need to acquire tickets and handle any other costs on your own. Generally, a tour is more convenient and it just makes the experience better for all users. With that in mind, the nice thing about entering a Palcoyo tour is that you also have a guide.
If you choose to go on your own, you won't have any guide. So you really need to study everything yourself. It's riskier to go alone, especially if you're new to the region. That's why we recommend going with a dedicated Palcoyo tour instead of trying things yourself. Safety is paramount, especially in situations like these, and that's exactly why you need to take it into account and just go with a tour. It's better, safer and certainly more convenient. A tour usually includes transportation, the tour guide who can translate if needed, even a lunch. Your guide will be knowledgeable about the region and can let you know about other places to visit in the neighboring locations too.
How long is the walk to Palcoyo?
You start from Cusco and the total walking distance to Palcoyo is around 5 km. Since this is not exactly a difficult trek, it usually takes up to an hour to reach the destination. The terrain is mostly flat, but there is a gradual ascent. Still, since the Palcoyo mountains are easy to reach, this is a hiking experience everyone will appreciate. You don't need expensive hiking equipment either, which is a plus. However, an appropriate stamina level is recommended, since you will be walking up to an hour.
Does it snow in Palcoyo Mountain?
Yes, between December and march it can end up snowing in Palcoyo. This is not something happening all the time, but there are situations when the snow levels can be very high. When it snows in Palcoyo you can also have hail, which is something to keep in mind and may determine the day of your visit. That's the reason why everyone tells you to bring thicker clothes with you, because you never really know what can happen. With the weather changing all the time, it can be close to impossible to deal with these situations, so just try to keep that in mind.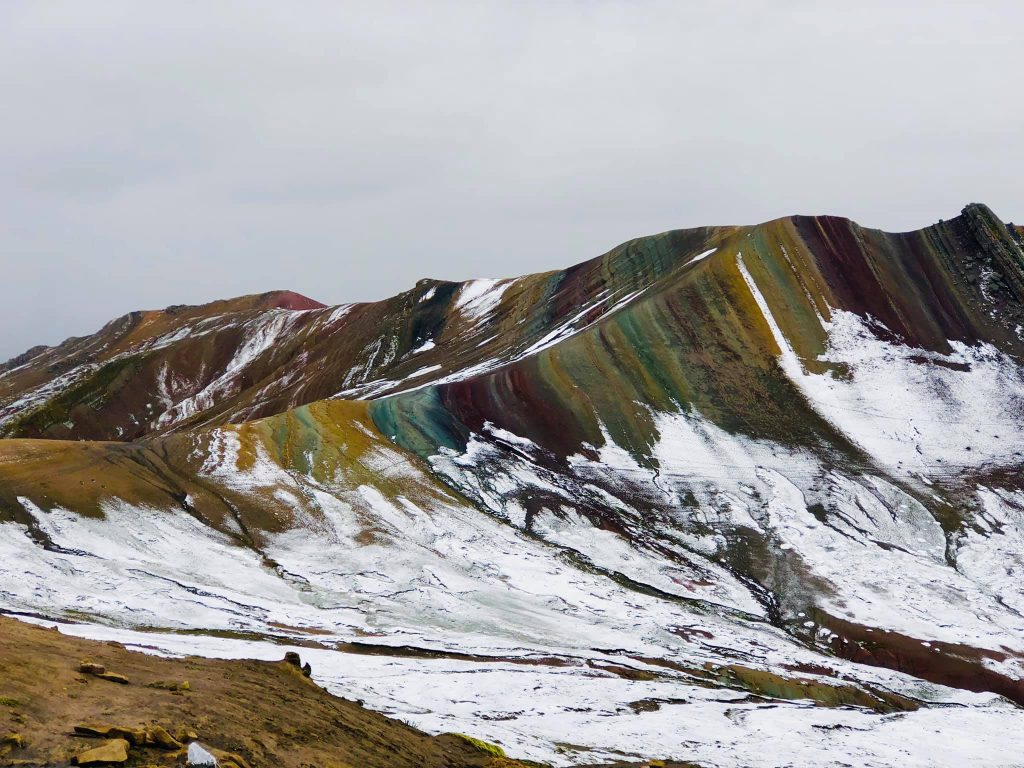 What animals live in the Palcoyo?
When you visit Palcoyo it's possible to see all kinds of animals. Some of the most common animals here are alpacas, but there are a large variety of birds too. There aren't a large number of dangerous animals, but some of them can be found there, and that's the reason you need to be careful. Animals here can sometimes be dangerous, but for the most part you will just find friendly alpacas.
Is Palcoyo nicer then Vinicunca Rainbow Mountain?
It all depends on personal preference. Some people like Palcoyo because it's a lot more colorful at times. Others enjoy Vinicunca because you really get to hike and test your skills to reach that location. The truth is that both of these rainbow mountains are a sight to behold, and you will find them to be an incredible place to visit.
A thing to keep in mind is that Vinicunca is more popular and also a lot more crowded when compared to Palcoyo. People that visit Palcoyo tend to have a much more pleasant and relaxed experience, since there are less crowds. The trek is also less difficult. That makes it a very good trip for the entire family and certainly something that you want to enjoy.
Recommendations for visit Palcoyo Mountain:
• If you want to visit the Palcoyo rainbow mountains, it's recommended to acclimatize in Cusco for 2 days or more before the trip. The idea here is to help prepare your body for the high altitude trip. It will also prevent any mountain sickness that might arise. Its better to do after your Machu Picchu visit.
• The weather is ever-changing and sometimes it can even snow randomly, especially at the beginning of the year. That's why it makes sense to go for thicker clothes if you can. Not only does it help you stay warm, but it allows you to enjoy a comfortable trip.
• Take some water with you, as these high altitude trips can be quite challenging on your body. Staying hydrated is a must here, and it will prevent many of the possible problems that might arise. We recommend drinking plenty of water to ensure that your body never reaches dehydration. Doing that will help improve your overall trip and experience.
• Getting footwear that's easy on your feet and very comfortable is a must-have. Hiking shoes are recommended, even if they are not mandatory. It's very easy for your feet to swell if you're not careful, so taking care of yourself and preventing any damage to your feet is a very good idea.
Summary Info for Palcoyo Full-day Tour
Driving distance from Cusco: (76 Miles / 125 Kilometers)
Driving time: 4 hours each way (including an hour-long stop in Combapata for a buffet breakfast and a buffet lunch in the village of Cusipata.)
Entrance fee: S/.15 / $4.50
Trail: Dirt trail to start, leading to a stone path that ascends gradually and winds to a switchback trail up to the stone forest summit.
Hiking Distance: (2.5 miles / 4 kilometers round trip)
Walking time: Hiking to the last viewpoint takes approximately 45 minutes, with a few breaks along the way and about 30 minutes to return to the parking area.
Base elevation: (15,400 f.a.s.l. / 4,700 m.a.s.l.)
Top elevation: (16,076 f.a.s.l. / 4,900 m.a.s.l.)
Elevation gain during trek: (656 f.a.s.l. / 200 m.a.s.l.)
Difficulty Level: Easy.
Duration Trip from Cusco: Full-day (10 hours approximately)
Photo opportunities: YES!
Conclusion
One of the advantages you get when you visit Palcoyo is that you get to enjoy some of the most incredible sights that you rarely see anywhere else. The rainbow mountains in Palcoyo are incredible, they look amazing and you will be amazed with their beauty and unique appeal. Thankfully, the hike to Palcoyo is not very complex, it's actually quite simple and enjoyable. It's recommended to join a Palcoyo tour if possible, since this comes with a tour guide and it just makes the process a lot easier. You also have less crowds when compared to Vinicunca too, which is a major plus and is enough a reason to consider visiting Palcoyo in the first place!