Ausangate Trek: The Ultimate Hiking Guide 2024
Ausangate Trek is considered one of the best Cultural treks in Peru, that it is worth doing. In fact, being less crowded with tourists is part of its charm. It guarantees travelers who venture on this remote journey a more unique experience. While you won't come across Incan ruins, it makes up for it with breathtaking natural scenery and spiritual significance. Spot spectacular snow-capped peaks, gorgeous lakes, and wonderful wildlife, including herds of llamas and alpacas. The centerpiece of the trek is the mighty Apu Ausangate, one of the tallest mountains in Peru and the famous rainbow mountain, also, you will be able to explore the Rainbow Mountain, hike throught the Red Valley and the 7 Lakes in Pachanta.
Overview:
The Ausangate Trek in Peru is one of natural beauty, living history and ancient spirituality. Considered challenging, this 4 o 5 days Ausangate trek is recommended 100%, The route takes you through the Cordillera Vilcanota, or the Vilcanota Mountain Range. Ausangate Mountain is actually the 5th tallest mountain in Peru, standing at 20,945 feet above sea level.
Through this Ausangate trek, you'll ascend and descend through the mountain range, finding sweeping Andean vistas, thermal lakes, mystical glaciers, green mossy passes and enormous snowy mountains. Along the way, you'll catch a glimpse of interesting wildlife, like condors, chinchillas and groups of vicunas. You'll also come across hidden Andean villages richly embedded in centuries-old traditions.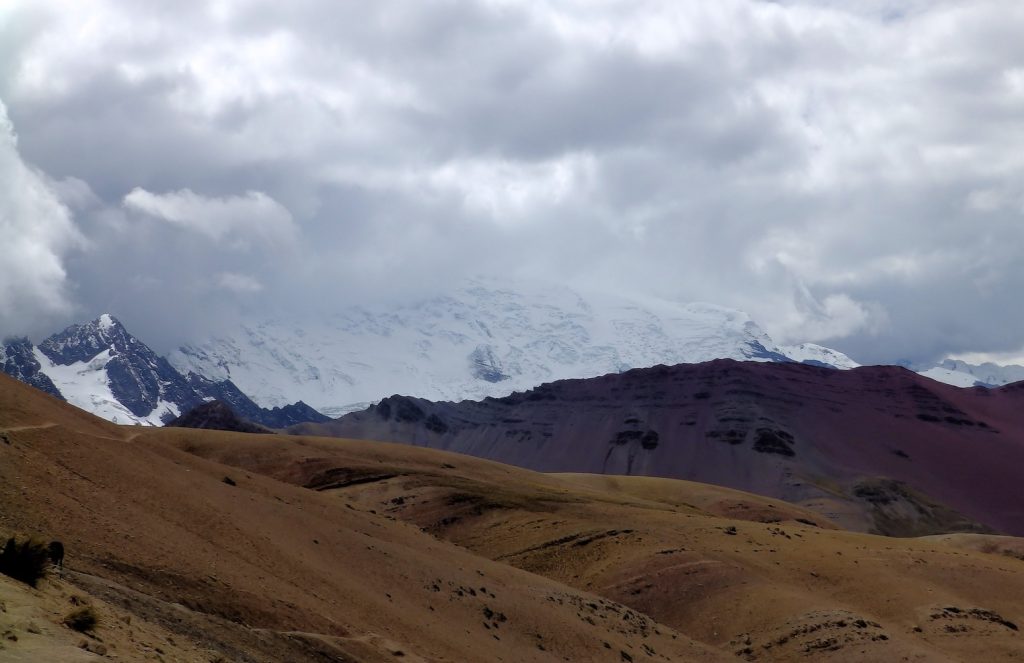 What are the Ausangate Trek Highlights:
1.- Apu Ausangate
For the Incas, mountains served as a connection between the middle and the upper worlds. Important mountains were called "Apus", named after protective spirits they believed to live inside them. Apu Ausangate is the tallest peak of the Vilcanota Mountain Range in the Cusco region. It is also the fifth tallest mountain in Peru, measuring 20,940 ft (6,384 m). Though the trek does not take you to the top, you will get unrivaled views of its majestic, snowy peak.
2.- Glaciers and Lakes
Apu Ausangate's nickname is "Creator of the Waters" because of its many glaciers. They are the source of several lakes and rivers that supply water to other parts of the country. For example, the Vilcanota River goes on to feed the famous Amazon River. Thus, Ausangate has a special significance for Peruvians to this day. On the trek, you will come across gorgeous lakes, each of which with its own unique color. The colors range from green to blue, turquoise, and even red.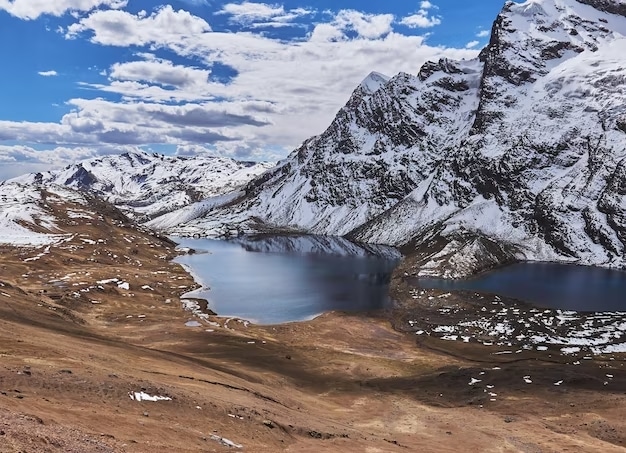 3.- Rainbow Mountain
One of the biggest attractions of Ausangate Trek is a chance to visit the famous Rainbow Mountain. Mineral rock sediments found in the sandstone give this mountain its iconic colors. While not on the trail itself, a visit can be easily arranged on a one-day detour. See the day-by-day itinerary below for more details on how to incorporate it into your trek.
4.- Flora and Fauna
The Ausangate trek passes through remote areas untouched by mass tourism. This has preserved it as a habitat for many wildlife species found in Andean Mountains. Come face to face with llamas, alpacas, vicuñas, and vizcachas (South American rabbit-like rodents). There are also various types of birds, such as Andean condors, black-chested buzzard eagles, and hummingbirds.
5.- Andean Culture
Several Andean villages are dotted across the trail of the Ausangate trek. These remote Andean communities still retain their rich culture and traditions. Once a year, 10,000 pilgrims gather to celebrate Qoyllur Rit'i, the festival of the "Snow Star". Several pilgrims climb Apu Ausangate searching for the legendary snow star. At the base of the mountain people celebrate with traditional dances. This event takes place over four days at the end of May or early June, coinciding with the full moon. Visitors who travel at this time are welcome to join the lively festivities.
Spiritual Significance
According to Andean beliefs, the mountains, called "Apus", are highly revered and believed to have a spirit. In fact, in Quechua Apu means lord. These powerful spirits are believed to protect the local people in the highlands. Ausangate Mountain stands with 11 other sacred apus of the Cusco area, namely Salkantay, Mama Simona, Pillku Urqu, Manuel Pinta, Wanakawri, Pachatusan, Pikchu, Saksaywaman, Viraqochan, Pukin and Sinqa.
Best Time to Go
The best time to do the Ausangate trek and Rainbow mountain, and all Peru hiking tours, is between May and September. This is the dry season in the Andes, making for sunnier weather and clearer days to take in the beautiful scenery. Try particularly for July or August, the driest months of the year. The dry season is also the high season for the area, so Cusco, Machu Picchu and the Inca Trail tend to be more densely populated. Fortunately, the remote Ausangate Trek is a unique choice, making it clear of crowds year round – even during peak season.
The rainy season in the Andes is between October and April, with the rainiest months being January-March. During this time, especially in February, rain can be torrential, which may cause closures on the trail. We recommend sticking to the dry season or the shoulder season (mixed weather) of April and October.
How Long is the Ausangate Trek?
The recommended length of this trek in 5 days. This gives you enough time to relax and enjoy the beautiful scenery. It also accounts for time to rest, in case you are suffering from symptoms of altitude sickness. Adding a visit to the Rainbow Mountain will require an extra day, making it a total of 6 days. If you are short on time, some tour companies organize a 4-day Ausangate + Rainbow Mountain trek. This shortened trail takes you back to Cusco after visiting the Rainbow Mountain.
Ausangate Trek Difficulty.
Ausangate Hike is considered to be a hard trek. It is important to consider the challenges carefully before embarking on your trip.
While the hike itself is comparable to other Andean treks, the average altitude is over 13,000 feet (4000 m) above sea level. Lower oxygen levels at this elevation can trigger altitude sickness and shortness of breath. There are a total of four steep passes to cross measuring up to 17,000 ft (5,182 m). Previous experience hiking at high altitude is highly recommended.
Located in a very remote area, it can be difficult to navigate the trail. To avoid getting lost, hiking with a professional guide like SAM Corporations is essential for all adventurers.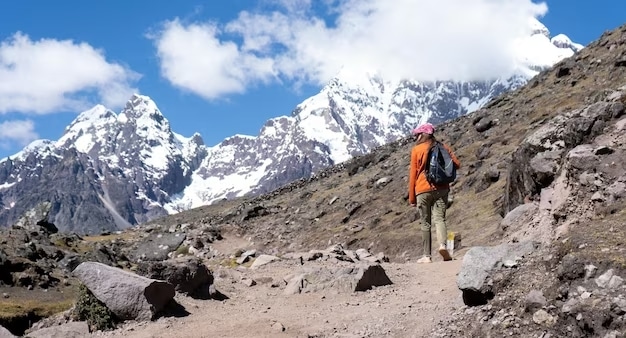 Choosing The Ausangate Trek
The Ausangate treks fall roughly into two categories: short (2-4 days) and long (5-6 days). If you have the time, we recommend choosing a route that is 5-6 days. This length of a circuit can provide a complete Ausangate Trek Experience and deliver more views and stunning landscapes than you thought possible in one hike.
Short Ausangate Trek (2-4 days)
Also known as Mini Ausangate Treks, these shorter routes intend to provide trekkers a sort of "best of" sample of the Ausangate region in a shorter period of time. These routes tend to focus around Puca Cocha Lake, Ausangate glacier, and Rainbow Mountain. They're tailored for hikers with a time budget.
Full Ausangate Trek (5-6 days)
Longer treks will take you over more mountain passes in a full circuit so you can appreciate some of the high peaks from multiple angles. Each day includes at least one, and sometimes two, mountain passes ranging from 4,000 meters/ 13,000 feet up to 5,200 meters/17,0600 feet. For the fullest experience we always recommend the longer adventures.
Are Inca Sites Found on the Ausangate Trek in Peru?
Although Cusco-based hikes usually have a wealth of Inca sites to explore, Ausangate has no archaeological sites. But, it really doesn't need them. The Ausangate hike is all about nature. It never gets boring and every day gives you a glimpse of something new. Rainbow mountains, red valleys, different coloured lagoons, wildlife and seeing Apu Ausangate from many different angles. This trek is simply incredible and never has a dull moment.
Ausangate Trek Map
The map below is the best online map you will find for the Ausangate trek. Please note that the map is not to scale. The trail marked on the map is only representative of the general direction of the route.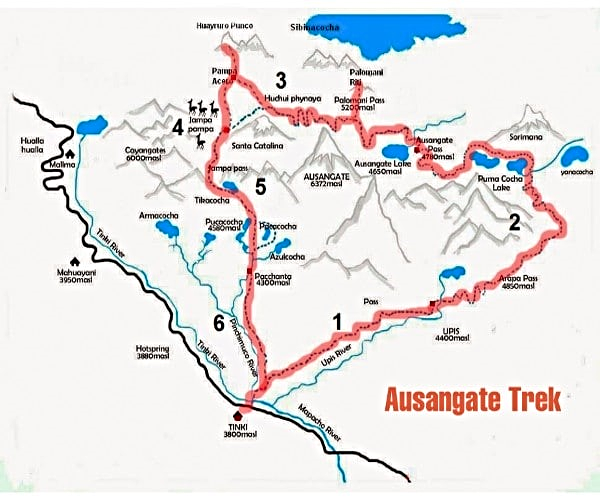 Altitude and acclimatization
This trail takes place at very high altitudes: 3,886 – 5,150 meters (12,749 – 16,896 feet). We recommend tourists get used to altitude by arriving at Cusco (lower altitude) and spend at least 2 to 3 days before starting the trail. If possible, they should do a half-day or full-day hike in Cusco's surroundings.
Altitude Sickness
Altitude sickness, or Acute Mountain Sickness, is a health effect that can arise at high elevations. Minor symptoms include headache, fatigue, difficulty sleeping and dizziness. More progressed cases can result in vomiting, shortness of breath and high altitude cerebral edema, which is associated with lethargy, nausea and disorientation. Click the link here to learn more about altitude sickness.
Ausangate Trek Packing List
Knowing the weather and the difficulty of the trek, you are probably asking, "What should I bring to Ausangate Trek?" If you are asking, here is a list of items that are a must-have on your trip:
A backpack with a change of clothes for the whole period of the trek
Rain gear (jacket and pants if available) or rain poncho (plastic ponchos can be purchased in Cusco)
Strong footwear, waterproof trekking boots recommended
Sandals or jogging shoes for a higher comfort while at camp
Warm clothes
Flashlight/headlamp and batteries
Camera and batteries (batteries consume more quickly under cold conditions)
Hat or cap to protect you from the sun, rain and cold
Sun block
Toilet paper
Snacks: biscuits, energy bars, chocolate, raw fruits, muesli, etc. Please note that we do provide a daily morning
snack and our meal service is very complete and well supplied. This recommendation applies for all clients
being used to a specific snack, as it may happen that it is not included in our selection
Water container and water for the first morning
Optionally: water- sterilizing tablets in case you pick up water from streams or rivers along the route.
Otherwise, we provide filtered boiled water, which is safe to drink and has not reported any health problem so far
Small towel
Swimsuit (if you wish take a dip at the hot springs along the route)
Cash in soles and/or US$
Copy of original passport
Walking sticks or poles
Machu Picchu Extensions
Rainbow Mountain and Ausangate treks do not include a final day at Machu Picchu. However, SAM Corporations offers several Machu Picchu extensions that can be added either before or after your trek.
Our Machu Picchu Tour is an excellent way to relax in comfort after a beautiful yet challenging multi-day trek, see all the options here!
The Machu Picchu and Moray-Salt mine extension combines authentic, off the beaten path experiences along with a visit to Peru's wonder of the world, see the detailed itinerary here!
The Machu Picchu and Sacred Valley extension fits all the highlights of the area in a few quick days.
The Machu Picchu and Short inca trail 2 Days / 1 Night extension fits all the highlights of the area in a few quick days.