Best Treks and Hikes in Huaraz Peru
If you love outdoor adventuring, gorgeous mountain scenery and camping under the stars, then Huaraz and the surrounding Cordillera Blanca is the perfect destination for you, check out our Huaraz Travel Guide and Hiking Tips.
Huaraz, a small city located 8 hours north of Lima by bus, its filled with amazing snow-capped mountains, exotic flora, and stunning landscapes. As the capital city of hiking in Peru, it shouldn't surprise you that many travelers come to Huaraz to chase some of the most breathtaking treks and hikes in the world. But with Huaraz surrounded by mountains such as the famous Cordillera Blanca Mountain Range (the world's highest tropical mountain range), which hikes and treks should you pick?
Below we have compiled a list of the 9 best Huaraz hikes and treks so you can experience the best of what Huaraz has to offer!
Elevation
Huaraz: 10,013 ft (3,052 m)
Huascaran Mountain Summit: 22,205 ft (6,768 m)
Santa Cruz Trek, Highest Mountain Pass: 15,584 ft (4,750 m)
Laguna 69: 14,764 ft (4,500 m)
Temperature
Daytime: 69 to 75ºF (21 to 24ºC)
Nighttime: 44 to 50ºF (7 to 10ºC)
BEST DAY HIKES IN HUARAZ PERU
There are some beautiful day hikes that you can do from Huaraz. Some of these are a good way to get acclimatized to the high altitude of Huaraz or used for training for the more difficult multi-day treks.
But don't underestimate the beauty and difficulty of these treks. Some of these day hikes and treks definitely took our breath away (physically and metaphorically).
1. Laguna Paron

Laguna Paron, or the Paron Lake, is definitely one of the most beautiful lakes in Huaraz. As the largest lake inside the Huascaran National Park, it is no wonder why Laguna Paron is a must on any Peru itinerary.
Pastel blue glacial lake surrounded by sheer cliffs and snow-capped mountains, Laguna Paron is a landscape photographer's paradise or a regular person's fairytale. The beauty of Lake Paron has successfully earned it as one of the most popular day trips from Huaraz. Hikers can find Day trips to Laguna Paron in every tour agency or accommodation there is in Huaraz.
The transport drops you off at the edge of Lake Paron where visitors can marvel at its elegance. However, that is just the beginning of the hike. The short 1-hour hike takes you on top of a cliff adjacent to Laguna Paron, where visitors can get panoramic views of the beautiful geological features of the region. Along the way, there is a little bit of scrambling and jumping from one rock to another. There are lots of big rocks and boulders near the top, probably due to frequent seismic activities in Peru. Once you arrive at the vantage point on the cliff, visitors can see Artesonraju, a 6,025-meter peak that is depicted on the Paramount Pictures logo. The film company? Yes!
Paron lake sits at 4200m above-sea-level so if you just got to Huaraz, we would highly recommend you to take a day or 2 to acclimatize.
Duration: 2-hour hike round-trip
Difficulty: Moderate
Maximum Altitude: 4,200m/13,779ft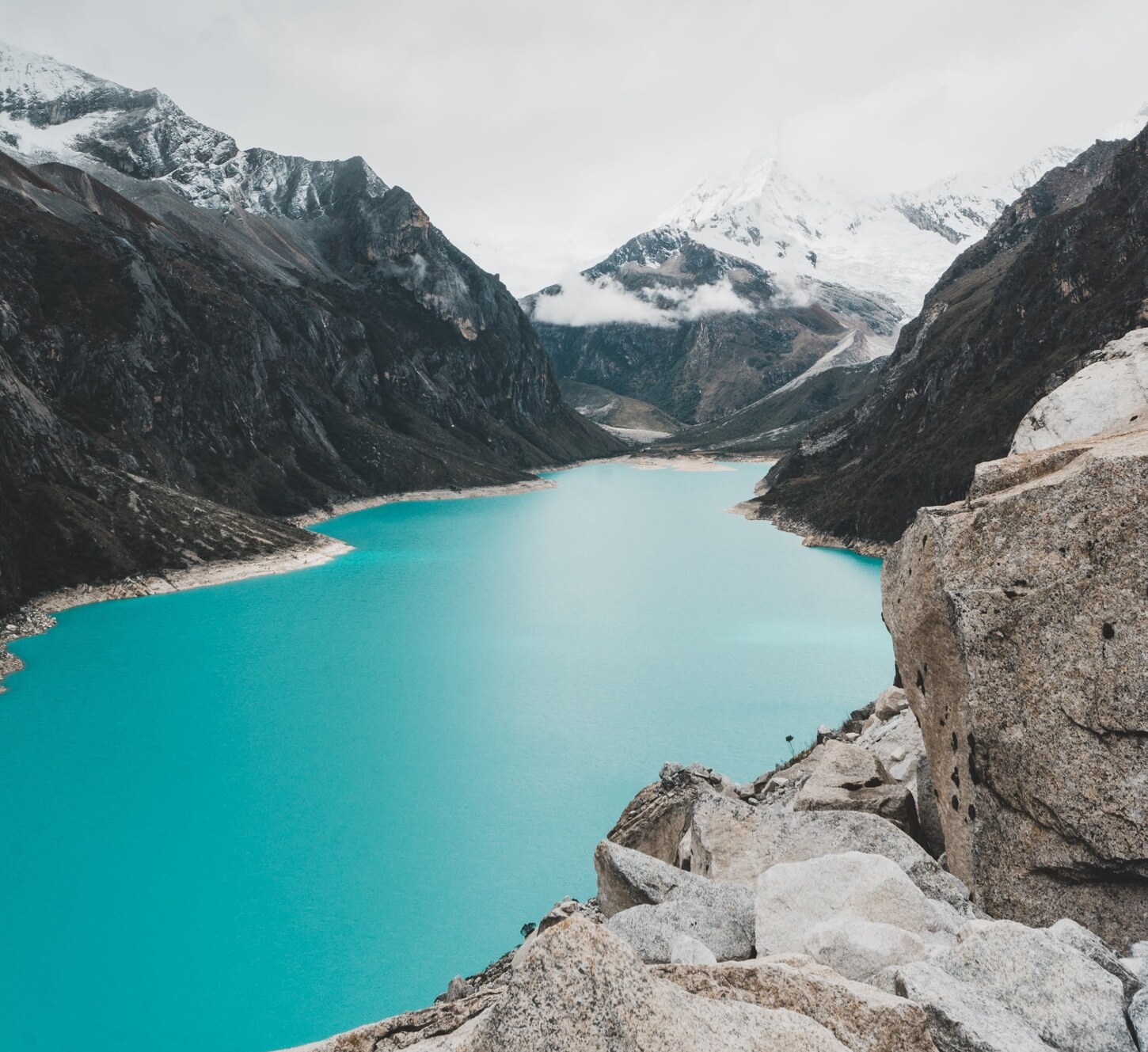 2.- Laguna 69, The King Of Huaraz Day Hikes
Situated at 4,600 meters above sea level or 15,090ft, `Trekking Laguna 69 is probably one of the hardest things to do in Huaraz. Chances are, before you even decided to do this hike, travelers and locals are already urging you to do it.
Why? Because Laguna 69 is absolutely gorgeous. The hike is jaw-dropping, the final Lake 69 itself is beautiful, everything about this hike is so perfect. If you only have a few days in Huaraz, we would highly recommend you to skip all the other hikes (except maybe to acclimatize) and just hike Laguna 69.
The good and bad thing about Laguna 69 is that it is a difficult hike. The lake is situated 4,600 meters above sea level, which could prove challenging for unacclimatized hikers. The hike up is only about 3 hours but you are gaining a lot of altitude in a short period of time.
If there is one thing you do in Huaraz, it has to be hiking Laguna 69.
Duration: 6-hour hike round-trip
Difficulty: Hard
Maximum Altitude: 4,600m/15,090ft
3.- Laguna Wilcacocha
Laguna Wilcacocha is probably one of the easiest day hikes in Huaraz. About 4 hours of hiking in total, not only is the path easy, but the way to do-it-yourself is easy as well. If you are lucky with the weather, you should see a range of snow-capped mountains behind Wilcacocha Lake.
To do it yourself, simply take the Route 10 or Route E van at the northeast intersection of Antonio Raymondi and Hualcan Street. You will see a bunch of vans pass by but just make sure you get on the right one. If you are unsure, you can always ask the locals for Route 10 or Route E.
When you get on the bus, tell the bus driver you are going to Laguna Wilcacocha. The other option is to download the app maps.me and look for the Wilcacocha trailhead on the map. Get off when you are close to the trailhead.
Laguna Wilcacocha is the perfect hike to acclimatize to the altitude and prepare for your other big hikes in Peru.
Duration: 3-4-hour hike round-trip
Difficulty: Easy
Maximum Altitude: 3,786m/12,421ft
4.- Laguna Churup
Laguna Churup is the hidden gem of Huaraz. Though fairly unheard of compared to the other popular hikes such as Laguna 69, Laguna Churup offers some spectacular views as well as a challenging and fun hike without the crowds.
There are a few parts towards the end where you have to free climb and use a rope to pull yourself up!
The best thing about Laguna Churup is that you can do it completely by yourself without a guide. Though a guide is recommended if you don't speak much Spanish.
To get to Laguna Churup, you have to take a shared van at the corner of Av. Agustin Gamarra and Las Americas. This van will take you to the town of Pitec where you will be dropped off at the beginning of the hike. The van leaves at 7 AM so make sure you get there by then. There are more vans that leave at different hours but ask the reception at your accommodation for more precise information as they tend to change all the time.
When you get off, the driver will tell you he will be back at a certain time to pick you up. If by any chance you cannot make it on time, you can walk to the town of Llupa and catch a shared van from there. It will be an extra 1-hour walk to get to Llupa.
Duration: 5-hour hike round trip
Difficulty: Moderate
Maximum Altitude: 4,450m/14,599ft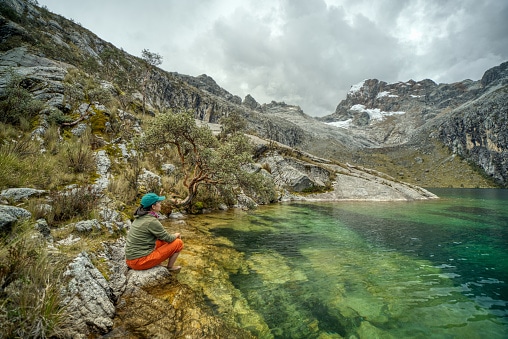 5.- Lagunas Llanganucos
Lagunas Llanganucos, or Llanganucos lakes, are comprised of two small lakes, the Orkoncocha and the Chiancocha. Typically people arrive at Llanganuco through an organized tour or taxi and then walk around the lake and trails.
The trail is very easy, lasting 1-2 hours and you get to see the beautiful Llanganuco lakes from different perspectives. At about 3,850 meters high, hiking to Lake Llanganuco is a very good activity to help you acclimatize to the altitude of Huaraz. If you do the Laguna 69 tour, you will pass Laguna LLanganuco, where you will be dropped off for 10 minutes to take photos. At the Laguna Llanganuco, you also have the option to ride boats and cross the lake.
Unless you are planning on spending a considerable amount of time at the Llanganuco Lakes, seeing them on the way to Laguna Paron is enough.
Duration: 1-2-hour of desired hiking
Difficulty: Easy-Moderate
Maximum Altitude: 3,800m/12,467ft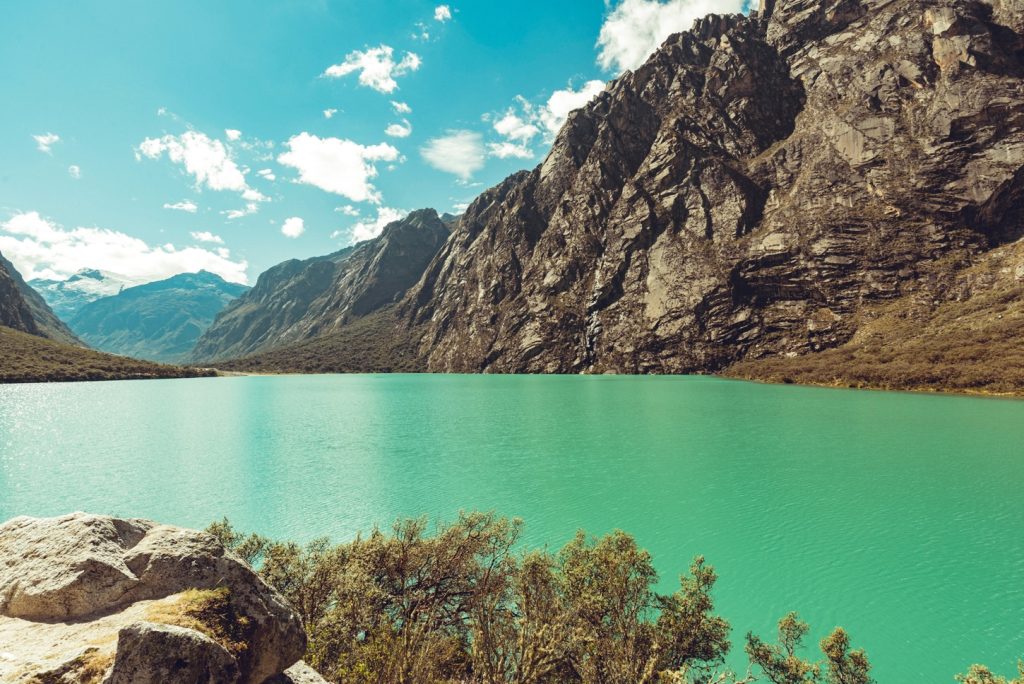 6.- Laguna Rajucolta
Laguna Rajucolta, or Rajucolta lake, is a rather unpopular destination in Huaraz. However, that doesn't mean it is not beautiful. The hike to Laguna Rajucolta takes you through 3 hours of flat and peaceful trail through the Nevado Huantsan mountains. Rajucolta lake is a very good hike to acclimatize to the altitude of Huaraz and prepare you for harder hikes.
As far as we know, only tour companies offer transportation to Laguna Rajucolta. However, you can try your luck asking around the reception of your accommodation to see if you can do it yourself.
Duration: 6-hour hike round trip with 1 hour of driving each way
Difficulty: Easy-Moderate
Maximum Altitude: 4,270m/14,000ft
7.- Glacier Pastoruri, One Of The Highest Hikes In Huaraz
If you are getting tired of the beautiful lakes in Huaraz, why not change it up and see a glacier instead?
Pastoruri Glacier is located 5000m above sea level but don't be intimidated by that. The walk up to the glacier is well paved and extremely easy but you should still take it slow because of the altitude.
Nowadays, visitors can no longer walk on the glacier because of how much it has declined. Matter of fact, glacier Pastoruri isn't even a glacier by definition. It no longer builds up ice in the winter due to global warming so by definition it is just a piece of ice.
Peru makes up 70 percent of the world's glaciers and it is extremely sad to see some of them disappear.
Glacier Pastoruri probably would not even exist in the upcoming years, so check this out before it is too late.
Duration: 2-hour hike round trip
Difficulty: Easy-Moderate
Max Altitude: 5,000m/16,404ft
BEST MULTI-DAY TREKS IN HUARAZ PERU
Other than day hikes and treks, Huaraz also offers plenty of options for those interested in longer hikes. Though these multi-day treks in Huaraz are extremely beautiful, probably some of the bests in the entire world, they can also be long and tough. The shortest multi-day trek is 3 days and the longest is 12 days! That is almost 2 weeks!
Note: There are many hikes inside the Huascarán National Park that are more challenging. In fact, there are 27 snow-capped peaks above 6,000 meters above sea level, including the Nevado Huascaran (Mount Huascaran), Peru's highest peak at 6,768 meters high.
For the sake of our Huaraz guide, we will only include the ones that are hiked by the everyday traveler and tourist.
1. Santa Cruz Trek, The Famous Cordillera Blanca Trek
The Santa Cruz Trek is a great introductory multi-day trek to what Huaraz has to offer. On the Santa Cruz trek, you will pass by many local villages that live in the Cordillera Blanca and have some stunning views of the beautiful snow-capped mountains nearby.
The Santa Cruz duration is usually about 3 to 4 days, with each day composed of 3 to 8 hours of hiking, depending on your fitness level. You definitely want to be acclimatized and trained for this hike.
The Santa Cruz trek is also a Huaraz trek you can do independently, but please be prepared and have some experience with high-altitude independent trekking!
Duration: 3-8 hours of hiking per day, 3 or 4 days of hiking
Total Distance: 50km (31miles)
Difficulty: Moderate-Hard
Max Altitude: 4750m (Punta Union)
2. Cordillera Huayhuash Trek, The Hardest Trekking In Huaraz
The Cordillera Huayhuash Trek is the most impressive multi-day trek in Huaraz. It is probably the most beautiful trek you will ever seen in your life. Travelers fly from all over the world just to hike this trek and see the beauty it has to offer with their own eyes.
Though not as difficult as the Mt. Everest hike, The Cordillera Huayhuash trek is pretty much the Mt.Everest trek of Peru.
On the trek, you will see Peru's second-highest mountain, Yerupaja, sitting at 6634m. You will also see Siula Grande, made famous by the book and movie, "Touching the Void."
There are many variations of the Huayhuash trek but the most common one is 130 km (81 miles) in 9 to 10 days. Though I have heard of a 4-day Huayhuash trek as well as a 12-day Huayhuash trek. The travel agencies will have more information on that.
After you finish that trek, make sure you treat yourself to some authentic and heartwarming Peruvian food such as a Caldo de Gallina!
Duration: 4-12 days depending on the trek.
Total Distance: 130 km (81 miles) the typical one.
Difficulty: Hard
Maximum Altitude: 5,000m/16,404ft
HOW TO PREPARE FOR HIKING IN HUARAZ PERU
Many of the hikes in Huaraz are at very high altitudes. Even the city of Huaraz is at 3000m, an altitude that can give you altitude sickness easily if you are not careful.
MOST IMPORTANT thing to NOT DO is arrive at Huaraz from 0 elevation and immediately start a trek. Huaraz trekking is no joke for the unacclimatized.
The scary thing is HAPE (High Altitude Pulmonary Edema) is the reason for many people's death while hiking Mount Everest. It is when you do not have enough oxygen in your blood.
A great tip for traveling in Peru is to always bring some Acetazolamide, or Diamox, with you. They are great medication for cases of bad altitude sickness.
So, please don't rush your trips, especially for people on a short vacation. Take time to get acclimatized.
No. 2 thing to be aware of is that most of these treks are difficult, especially the multi-day treks. It is a good idea to hike around Huaraz and use some of the easier hikes to acclimatize and train for your multi-day treks. We also highly recommend you to purchase some travel insurance when hiking in Huaraz. It is a small cost for peace of mind and knowing you will be protected on these hikes!
Things To Bring On Your Hikes And Treks In Huaraz
Depending on which hike you pick and the duration of your hike, the items you need to bring might alter slightly. But in general, these are the things you should bring:
Sunscreen is a necessity – The sun at high altitudes is much stronger than the sun at sea level. Plus, the reflection of the sun from the snow makes the damage much worse.
Rain poncho or raincoat – Weather can change so quickly at such high altitudes. Pack one for safety, especially if you are visiting during rainy season
Filtration Water Bottle – It will help you in dire circumstances, especially if you are on a multi-day trek. You can save weight and money by having a filtration water bottle.
Gloves and Hat – For the cold weather you will encounter at high altitudes.
Sturdy Hiking shoes (Him/Her) – The terrain in the Huascaran National Park is pretty tough, we recommend some good hiking boots to protect your feet.
Coca leaves – you will need (want to) have some for your hikes. They built Machu Picchu using these things. You can easily get them in the markets of Huaraz.
Food/Snack/Water – Pack accordingly to how long your hike is going to be.
Money! A lot of these parks will charge an entrance fee. Also some villages you pass by will also require you to pay them.
All other questions should be addressed to the tour companies before the start of your Peru trek! There are plenty of tour companies to choose from on the main street (Centenario) of Huaraz.
HUARAZ TRAVEL GUIDE AND FAQS
Is Huaraz Peru Worth Visiting?
If you are into hiking, camping, and beautiful scenery then make sure you stop by Huaraz, Peru. This Ancash Region is surrounded by snowy peaks of the Cordillera Blanca, most of which can be explored in the Huarascán National Park.
How Many Days To Stay In Huaraz?
Depending on how many hikes you want to do in Huaraz, the number of days you stay can drastically differ. At the minimum, visitors should stay around 4 days in Huaraz, two days for accommodation and two days for hiking.
Planning Your Trip
Travelers going to Huaraz are encouraged to book services with credible companies to receive quality service, professional guides, and security. Our Peru for Less travel advisors are happy to help out with trip planning and answer your questions.
Alternatively, if Huaraz is a leg of your Peru trip you're planning on your own, be sure to ask around for recommended trekking and excursion providers. Not all tourism services are the same and super low pricing may be a cautionary flag of cutting industry standards or lacking proper certification like SAM Corporation
Huaraz Travel Guide & Hiking Tips
Follow this essential info and advice for planning your trip to Huaraz.
How to Get to Huaraz
Take the bus, fly, or drive to Huaraz from Lima. The city of Huaraz is the region's main transport hub.
Bus
Bus travel is the easiest and most affordable way to get from Lima to Huaraz. Daily departures also permit more trip planning flexibility if you don't know your desired travel dates far in advance.
Direct bus service Lima to/from Huaraz is about 8 hours
Lima – Javier Prado Bus Terminal
Huaraz – bus companies have separate terminals
Cruz del Sur, Movil Tours, and Oltursa are reputable bus companies that offer comfortable service to Huaraz. Upgrading your ticket to VIP generally includes a fully reclinable seat, a personal TV screen with entertainment, and meal/snack service. Travel Tip: Take the overnight bus to Huaraz. That way you arrive to Huaraz early in the morning between 6 to 7 am and can maximize daylight hours to acclimate and soak in the region's beautiful scenery.
Flight
As of 2020, flight service is not available to Huaraz. Contact Peru for Less for help planning your trip to Huaraz and up-to-date transport details.
Car
The journey from Lima to Huaraz in your own transport takes approximately 5 to 6 hours. Traveling during the daytime is advised due to the curvy road conditions and limited phone coverage in the mountains.
Huaraz Travel guide information has been updated on June 2023
See our tour in Cusco and Machu Picchu!!
.