The Best Places to Go on a Quad Bike Tour in Cusco
Are you looking to have one of the most adventurous experiences in Cusco? Discover the places to go on a quad bike tour in Cusco and have an unforgettable adrenaline filled adventure!
Today, Cusco is a very popular destination worldwide, not only for its historical value but for the great number of activities people can do within its territory. Thanks to a big variety of natural resources and incredible landscapes, Cusco has become the perfect place to practice adventure sports such as biking, hiking, trekking, and many more.
There is no doubt this city can offer more than a cultural experience, and that is why lots of adventurous tourists come to this place to have a good time in the Inca empire. Now, as you might have seen, there are plenty of things to do including visiting museums, archeological sites, markets, etc. However, one thing you won't like to miss out on is the beautiful scenery of the Andes.
What could be the best way to know these lands? The answer is simple, going on a quad bike tour. There is no better way to get the most stunning views while riding a quad bike on your own. At the same time, feel the adrenaline of riding an ATV and go at your pace along with a group of friends. But the real question could be "where could I go?"
Thinking of you, we have looked for the best places to explore on a quad bike tour in Cusco. Please, join us in this adventure and discover the Inca's valley in a unique way.
WHY TAKE AN ATV TOUR IN CUSCO?
Making a traditional tour to discover new tourist places in Cusco is the most common thing to do for lots of tourists. However, discovering the city on wheels is a new proposal of adventure where you can get your fill of adrenaline. The best thing about riding these vehicles is that we can arrive at almost any place without having to get tired, and at the same time, enjoy incredible circuits and routes.
Plus, the views you can admire while driving will be one of a kind experience. If you are the type of person who loves nature and exploring new environments in a different and fun way, this tour will be definitely for you.
HOW TO MAKE AN ATV TOUR IN CUSCO?
There are different ways in which you can be part of an adventure on wheels, the first one is to make this expedition on your own enjoying a trip to the outskirts of the city. For this, you will need to rent an ATV, and contact people who can guide you to your destination. To be honest, this way is not recommended as things can go not as planned. You can get lost, the ATV can break down in the middle of the way, etc.
Your second option would be going with a tourist package that includes a visit to a cultural site on ATVs. There are dozens of tour operators that specialize in this service. Remember always go for the one that suits your expectations. Make sure the tour works with professional guides, that all vehicles are in good condition, that you receive the correct equipment, for it. We recommend you contact us: Orange Nation to answer any questions/concerns you may have.
PLACES TO GO ON A QUAD BIKE TOUR
SACRED VALLEY
Maras & Moray
This is one of the most famous sites in Cusco. Indeed, you will find lots of tour operators that included Maras & Moray as a total package for the Sacred Valley. However, we highly recommend going on a quad bike tour as the experience you get is way different.
On your way, you will come across beautiful scenarios surrounded by the Andes nature. The duration of the ride will depend on the places included (regularly it's 1-hour ride to Moray). Note that prices may vary from 40 – 90 us dollars so, we recommend choosing the average cost.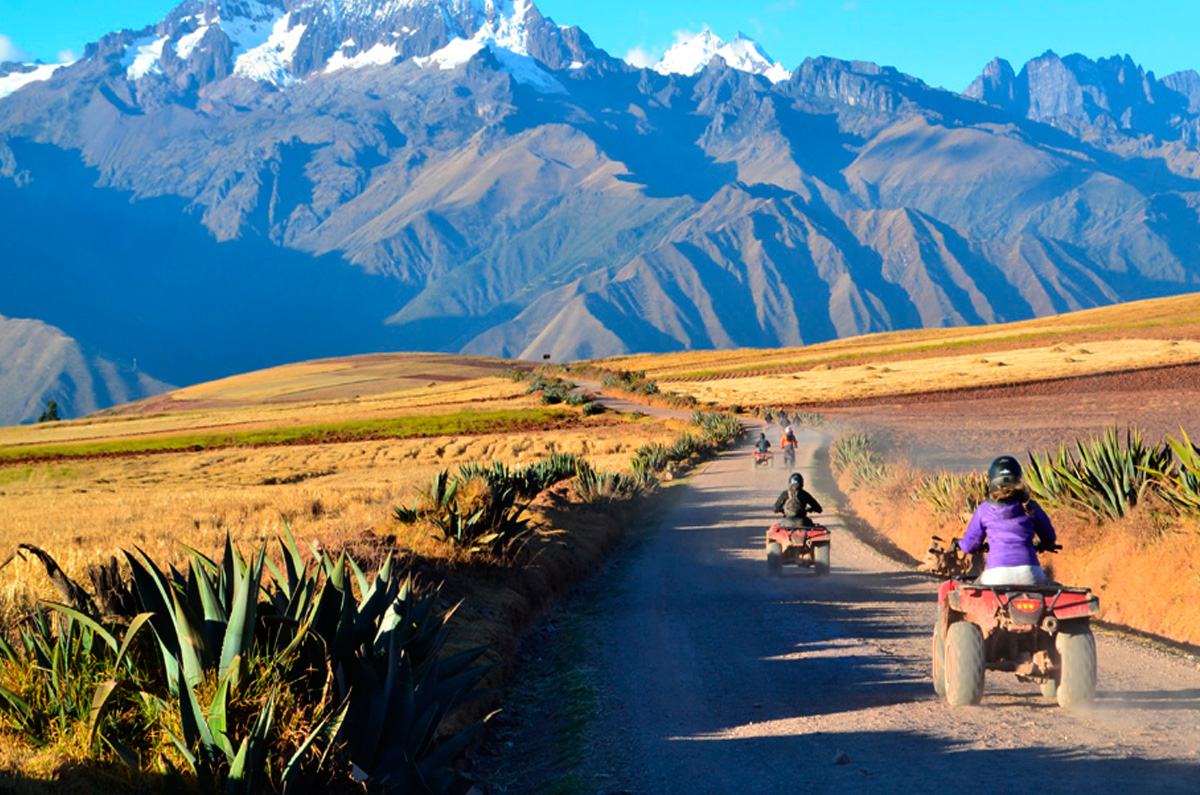 OUTSKIRTS OF CUSCO
Pumamarca
Here there are trails surrounded by cultivated fields that travel up to 75 kilometers. In this adventure, you will also find the Archaeological Site of Pumamarka.
Quillawana
This small community is also located on the outskirts of Cusco city. It is an alternative route that offers a distance of 30 kilometers of spectacular views of the Andes. It also offers the opportunity to visit archaeological sites.
Yuncaytapa
This route has amazing trails among which the Ccorao mountain stands out, a viewpoint where all the landscape splendor of Cusco can be seen.
RAINBOW MOUNTAIN
Even though the ride is not that long, you can go to the rainbow mountain on a quad bike. Note that trekking up to the mountain is still necessary, and the price could be a bit more expensive than usual. This is because operators are still testing the route. For more information about the Rainbow mt tour <– click the link.
HUAYPO & PIURAY LAGOONS
The route on ATVs is 40 kilometers long. On this road, you will be able to see the Huaypo and Piuray lagoons. Also, some operators include a visit to Chincheros as it is on the way back. If you like this type of landscape, don't forget to visit these marvelous turquoise lagoons.
RECOMMENDATIONS
When looking for options for an ATV adventure, make sure it includes: the transfer, the guide, the ATV, the helmets, and all the safety measures for the tour.
In the Sacred Valley, it is advisable to wear light clothing. However, the rains can occur in any part of the year. That is why it is better to take a poncho in case of rainfall.
There is no need to be an expert driver. The vehicles used are automatic so learning to drive them is quite easy. Remember to go at your own pace and always follow your guide's directions.