The 7 best Hiking Trails in South America
Here we have made a list of what we consider to be the 7 best Hiking trails in South America. Each trek is unique and filled with a range of biodiverse landscapes. Ranging from natural, cultural or archaeological, one of the main reasons many visitors return to Peru time and time again is because there is always something new. Whether it's the quirky Latin American spirit or captivating traditional cultures, incredible archeological sites, or delicious cuisine, it's all too easy to get caught up in this colorful continent and its people.
From pristine beaches to primary rainforest, city-sized glaciers, and empty desert plains, the myriad environments found in South America are unmatched in their majesty, biodiversity, and variety. For avid adventurers, South America is a dream come true.
Beautiful valleys and dramatic mountains, river gorges and forest trails, high mountain passes and remote roads unite ancient ruins, rural communities and natural wonders in every corner of the continent. Here are our 7 favorite hiking trails in South America to inspire you before you book your tour.
The Inca Trail to Machu Pichu in Peru
There is no evidence that the Spanish ever found what's now known as the Lost City. The Inca Trail to Machu Picchu in Peru is largely untouched since those times, meaning you'll be treading on the same stone steps as the Inca who travelled to the Citadel over 600 years before.
The Classic Inca Trail is a 4- or 5-day hike that takes you deep into Peru's Sacred Valley, beginning beside the Urubamba River and first trekking through a scented pine forest, before gradually opening out into the proper valley. Along the way, you will pass beguiling Inca ruins like Llactapata and Winayhuayna, conquer high mountain passes that take you 4,200m/13,779ft above sea level, and walk through cloud forest from one spectacular camp site to the next. The climax comes on the final day when, having hiked overnight to Inti Punku, the Sun Gate, you'll see the sun rise over Machu Picchu from your hilltop perch and watch as the mist clears, revealing the Citadel below. A spine-tingling finale to your bewildering tour.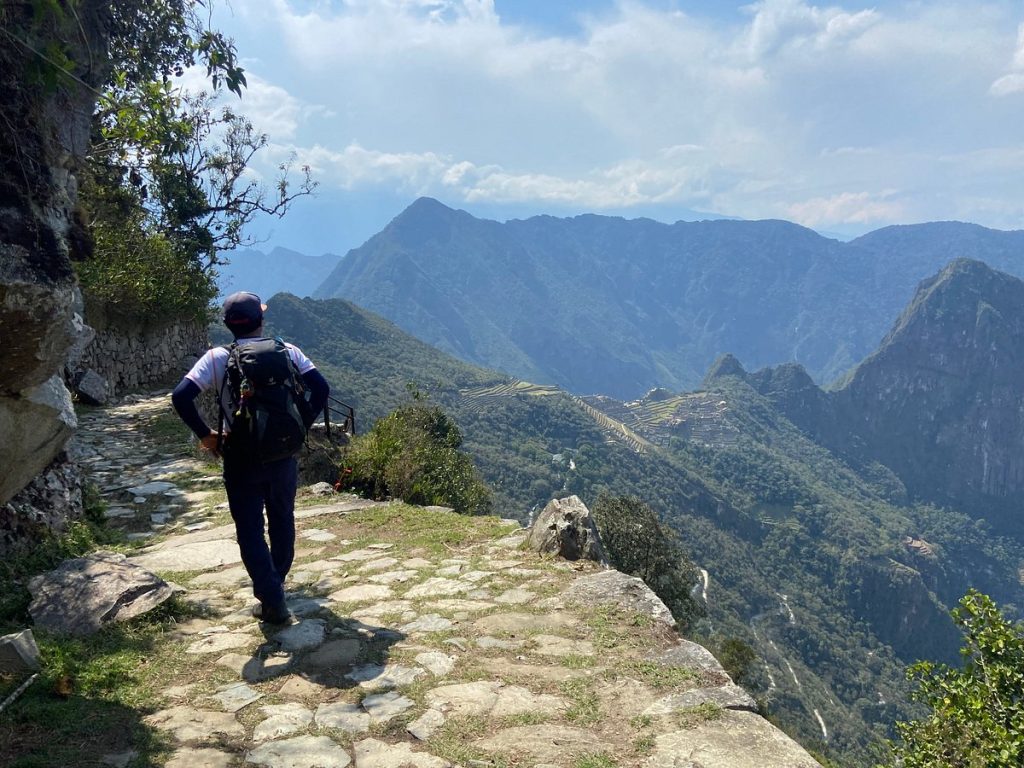 The Salkantay Trek to Machu Picchu in Peru
Looking for a luxurious alternative to the Classic Inca Trail? Chose the Salkantay Trek to the Lost City instead! This Sacred Valley hike not only takes you on a meandering, lesser-visited route to Machu Picchu, but you'll stay in wonderful mountain lodges along the way, too. The Salkantay Trek begins with a scenic hike up to Salkantay Lodge, perfectly nestled as it is under the shroud of imposing Sacred Valley mountains. It's a suitably atmospheric place to start, with the lodge itself bedecked in traditional Peruvian fabrics and decor, with exquisite exposed beams and stonework, before the remaining Salkantay Trail takes you around beautiful Lake Humantay and the Salkantay Pass.
This is where the route gets a little more challenging. All efforts are, however, rewarded with fantastic views and enchanting scenery – from coffee plantations to cloud forests, and those boutique lodges to look forward to at the end of each day. It's a 5-day hike, culminating at Machu Picchu, the ultimate end to a unique Peruvian adventure.
El Chalten Hike in Argentina
Less of a specific hiking route and more an entire area, the region of El Chalten in Argentinian Patagonia deserves its own mention as there's simply so many fantastic self-guided treks to enjoy here.
Perfect for full or half-day walks, as well as some longer routes and even rock climbing for those inclined. El Chalten is the unchallenged walking capital of Argentina. The town itself was purpose-built in the 1980's, while the land is one of waterfalls and rivers, green slopes and lagoons, snow-covered mountains and solid ice sheets – a haven for outdoor enthusiasts.
There are countless walking trails in El Chalten to choose from, with some of the best being:
Mirador de los Condores (3-5km)
Laguna de los Tres (24km)
Laguna Torre (5.8km)
Mirador del Torre (6-10km)
Laguna Capri (10km)
Loma del Pliegue Tumbado
Chorrillo del Salto (6.6km)
Piedra del Fraile
Huemul Circuit (40 mile route)
That is to name just a few. And after a day on your feet there are few better places to return to than the cozy restaurants and local hotels of El Chalten itself.
The W Trek, Torres del Paine in Chile
Though well-known and often tipped as the "best walking route in Patagonia", the 5-day W Trek in Torres del Paine, Chile, easily earns its place on our list of top 6 treks in South America.
This route is so beautiful in all its vast diversity, imposing scenery and isolation that it simply must be done to be believed. Torres del Paine itself is a fantasy-film landscape of glaciers, emerald lakes, icebergs, and foreboding mountains – all of which are begging to be explored.
The W Trek takes in some of the finest of each. What's more, this is a low-altitude trail in Torres del Paine with very few long inclines. For all its glory and surrounding scenery the 46-mile route is easier to achieve than you might imagine. Glamping, camping, or staying at refugios along the way (we recommend a boutique hotel either side of the hike), the W Trek usually starts at Refugio Las Torres and goes east to west, ending at Refugio Paine Grande.
Every step is a joy as you vanish into this awe-inspiring wilderness. Big highlights as you hike include the hanging glaciers of the French Valley, getting up close to the mighty (though retreating) Grey Glacier, witnessing Los Cuernos – "The Horns", and reaching the base of The Towers themselves. In truth however, it's the complete immersion into the untouched landscape and the scale of Mother Earth here that really sets the W Trek apart.
Valley Of The Volcanoes Trek in Ecuador
This stunner is generally done in Lodge to lodge fashion, which makes it a great option for those who are beginner trekkers as well as seasoned adventurers.
Hop from village to village and pass the most stunning collection of volcanoes to be seen. Follow historical trails and dive deep into the Andean cultures while witnessing the iconic Quilotoa Crater, the impressive Cayambe and Chimborazo volcanos, and the most ecologically diverse rainforest near the town of Banos home to the second tallest waterfall in Ecuador Pailon del Diablo.
Summiting Huayna Potosi in LaPaz, Bolivia
Want to summit a 19,000ft + mountain? Well Huayna Potosi in Bolivia offers up a beginner level climb that can be accomplished by most first time climbers with no prior experience, some go as far as to say it is the easiest 6000m (19,000ft +) mountain in the world. Acclimation is necessary to be successful, so it is recommended to spend a few days in the city of LaPaz or surrounding regions prior to taking on the summit climb. A guided trip will outfit you with all the necessary gear, a guide and accommodation in the refugios at both the basecamp on night 1 and the highcamp on night 2.
No matter where you choose to go, whatever your fitness level or areas of interest, this is only the beginning of some of the best hiking routes in South America.
Cordillera Huayhuash in Peru
Glacial lakes overlook the long valley and mountain peaks of Cordillera Huayhuash in Peru. This region has some of the best treks in South America. The quiet trail of Cordillera Huayhuash in Peru offers access to untouched wilderness. With most of the hike happening over 4,000 meters above sea level, it is definitely the most epic trek in Peru. With the full trail takes a rough 10-12 days, it is also possible to do partial sections of the trail. Huayhuash is less popular than the nearby Santa Cruz trek, and it offers quieter trails across some of the most untouched regions of the Cordillera Huayhuash.
Lauded as one of the best treks in the world, if you are serious about hiking in South America, this is a route not to be missed and that is the reason of why we listed on our 7 Hiking Trails in South America
Duration: 10-12 days
Best time to go: April – September
Difficulty: Challenging
Highest point reached: 5,000 meters
Starting point: Huaraz
Must have gear: UV sunglasses and warm clothing to protect you from the snow. A waterproof jacket will also be helpful (waterproof pants too if you are there in the rainy season).
Do I need a guide? A guide is highly recommended because of the length and altitude of the hike. If you opt for no tour, you will need to carry a lot of hiking gear and food for the journey. I recommend that it's better to go with a guide so that you can focus on hiking and they can keep you safe and organised.
Cost: Around $300 USD – $400 USD, depending on the length of your chosen route and the agency you use.
Cited as one of the most scenic hikes in the world, Huayhuash is not for the faint hearted.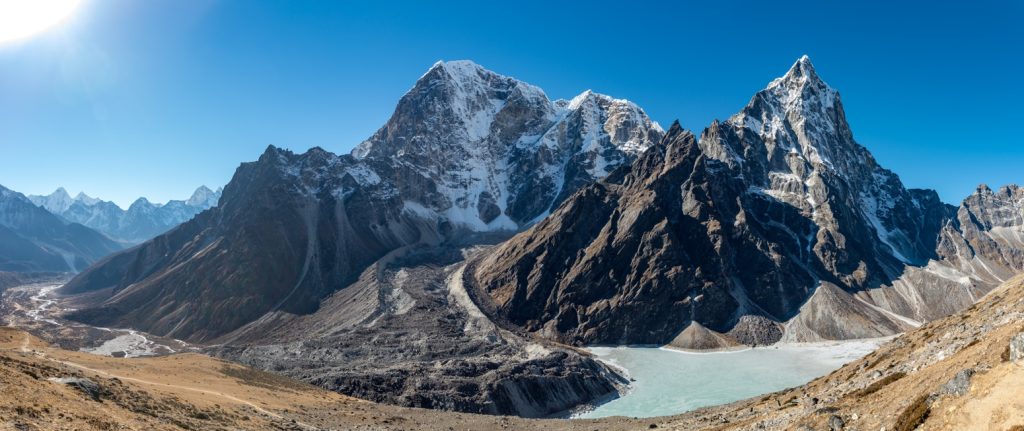 **The 7 Hiking Trails in South America was updated on June 2023!